Product Description
Decora style High-quality auto transformer series provides the advantages of excellent frequency response, low insertion loss and reliable performance for volume control application in 25 and 70.7-volt systems. Attenuation is accomplished in ten make before break steps plus positive off position. (No stop between maximum and off position to prevent switch damage). Contacts are silver plated for noise-free operation. Features a removable terminal block, and come complete with white and ivory plastic plates with matching skirted knobs.
General Information
Manufacturer
Atlas Sound LP.
Manufacturer Part Number
AT35D
Brand Name
Atlas Sound
Product Series
AT
Product Model
AT35D
Product Name
AT35D Hard Wire Dimmer
Product Type
Hard Wire Dimmer
Technical Information
Controllable Function
Volume Control
Dimmer Type
Rotary
Power Description
Input Voltage
70.7 V AC
Power Rating
35 W
Physical Characteristics
Color
Height
4.5"
Width
2.8"
Depth
2.1"
Miscellaneous
Package Contents

AT35D Hard Wire Dimmer
White and Ivory Plastic Decora Inserts
Trim Plates
Skirted Knobs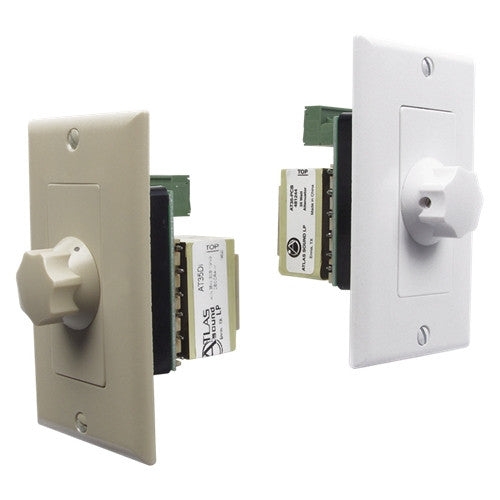 This product is eligible for free shipping in an order of over $49. Purchase more than $49 worth of products and take advantage of free shipping today.
This product is eligible for free shipping. Buy now to take advantage of free shipping on this item.
This item is only shipped using ground freight shipping. Add to cart and hit the checkout button to see shipping charges for this product.
This product is eligible for free ground shipping. Complete your order now to take advantage of free shipping on this product.
Standard shipping fees apply to this product. Add to cart and hit the checkout button to see shipping charges for this product.
Home Theater
This product is easily integrated into larger home theater systems and home entertainment systems. This product has proven the quality to be considered Home Theater Ready. Start building your home theater today.
Smart televisions, surround sound systems, soundbars and more are available from iElectronics.com, your online destination for home theater equipment and home entertainment systems.
Home Automation
This product has been certified to work well with home automation systems. It is easily integrated with Universal Remote Control, Control4 Home Automation Systems, and other home automation components.
No matter your home automation need, iElectronics.com has the solution for you, from Control4 components to full home automation and Universal Remote Control systems, including expert installation from highly-trained technicians.
Manufacturer guidelines state that this item cannot be directly purchased online. We are able to sell this item to you in our retail location, please call for details.
Give us a call at 1-866-795-5120 for pricing and more information.
Hello there. Would you like a discount?
Valid on this product only:
Atlas Sound AT35D Hard Wire Dimmer
Enter in your name and email address in the form below and submit it to have us automatically email your one time use coupon that is good for today only.
Please check your junk folder for our email. To ensure proper email delivery add mail@ielectronics.com to your address book.

Thank you! Here is your coupon. To activate it, enter the code below at checkout.
This coupon is valid until the end of the day today, and while supplies last.
An error occurred when processing your request.
Please call us at 1-866-795-5120 for immediate assistance.