Installation Package Details
Total Price:
$419.96
Order Online or Call: (314) 219-7545
Servicing St. Louis, St. Charles, Metro East & Surrounding Missouri / Illinois Areas
Step 1: Add the Base Package to Cart
Types of Television Mounts
There are many special types of mounts that can be used to hang your flat screen TV on the wall, each with its own set of benefits:
Low Profile Mounts
Also called "flat" or "flush" mounts, they secure a TV flat against a wall without any range of motion. These inexpensive mounts require little space (as little as one inch between the TV and the wall). Inputs and wires cannot be accessed unless the TV is removed from the mount.



Tilting Mounts
These allow the vertical viewing angle to be adjusted up or down for a better, more comfortable viewing experience. Typically used in installations above eye level, these mounts are relatively inexpensive and provide easier access to inputs and cables.


Full Motion Mounts
Also called "cantilever" or "articulating" mounts, they allow both side-to-side and up-down adjustments so you always have the perfect viewing angle. These mounts provide the best range of motion and viewing experience, but they are also more expensive and difficult to install than the other mount types.
Do you need multiple TV's installed? We offer discounts for more than one! (314) 219-7545
Let's get started! Please Enter Your Zip Code:
Why do you need my zip code? iElectronics.com offers professional installation services in the St. Louis Metropolitan area only. To better serve our customers, we need to verify service availability before we proceed.
Great news!
iElectronics professional installation services is available in your area. The base installation package has been added to your cart and now it's time to review the installation options.
Low Profile Flat Mount
Low profile mounts are metal mounts that attach almost flush with the wall so there is very little room behind the making it look more streamline and sleek. This type of mount is the perfect choice for a TV in a location where it doesn't need to move around and when being close to the wall is important. Low profile mounts are recommended when the TV can be positioned at a fixed height and the viewer's line of site is within the best viewing angle.
Tilting Mount
Tilting mounts can point upwards and downwards for a better viewing angle so this would be perfect if you are planning to mount your television and view it from a bed, couch or on the floor of a children's room. Tilting mounts are the best for rooms where there is a lot of light and/or windows that has reflections. Being able to tilt the TV will give you many angles of viewing and helps give you a better television viewing experience.
Low Profile Tilting Mount
Just like a regular low profile mount these are mounted almost flush to the wall which gives a very clean look with thin lines just like flat-panel TVs are designed to look. You would want to choose this type of mount not only if you want to have a flush looking mount but if you are going to mount this in a room where there might be a lot of light or windows that cause reflections. A tilting mount will help enhance the viewing angle so it can be moved to optimize your TV viewing experience.
Full Motion Mount
Full motion mounts do everything you could wish a TV mount could do, they not only extend and retract but also tilt and swivel in all directions. These are the best mounts and are often the choice for most homes because of the average amount of usage the TV gets. This mount is highly recommended when you have an odd shaped room or maybe there are a lot of windows on one side of the room so it may make it difficult to put the TV in the exact location you want it and with these mounts you can change the viewing position of the TV to point almost anywhere.
Electrical Outlet Bridge
This in-wall electrical outlet bridge and low voltage box helps to position a flat-panel TV as flush with the wall as possible, offering plenty of space to hold cables and wires for a seamless appearance.
Remote Control Consolidation
Every TV that we mount to the wall comes with free remote programing up to 3 devices. If you have a Blu-ray player or dvd player, xBox, PlayStation, A/V receiver or any other smart (internet ready) device we will gladly sync it for free to your remote. If you would like us to connect more than 3 devices we can do so with a small service free all you need to do is ask.
One of the greatest qualities of flat screen TVs is their low profile, which makes them prime targets to be hung on walls and free up room for other furniture, maximizing space in small areas. Different types of mounts are available that allow you to have your LCD TV, LED TV or Plasma TV as close to the wall as possible, with or without range of motion. The installation process may be a complicated and time-consuming process, but you can count on us to help mount your TV on the wall and hide all the wires.
iElectronics.com offers flat screen TV installation services and LCD TV wall mounting in the St. Louis Metro Area with experienced professionals who have been installing televisions on walls and above fireplaces for more than a decade, with more than 1200 installations performed to date.
Have our certified technicians mount your flat screen TV on a plaster, drywall or sheet rock wall. So no matter what size your TV is or what location you would like it hung, iElectronics will be able to provide you with a hassle-free tv mount installation.
What Comes With Each Installation?
Professional, experienced, friendly technicians
Provide and install one 10 foot (10') HDMI cable to connect your TV to one component (cable box or satellite receiver, DVD/Blu-ray player)

We will install up to 2 additional components (Google TV, BluRay Player) at no additional charge. (Additional cables not included in purchase price)
Additional components may require networking for connecting to the Internet to stream video. iElectronics.com also offers four networking options (via power line, coax cable, wireless, or hard-wired to your router) for additional cost

Cable concealment within one stud bay
Debris removal
Ensure all equipment works properly and demonstrate how to use
What Happens When You Order
When you purchase TV installation services from iElectronics online, here is what happens next:
You will receive a call from one of our installation experts to verify all information, including the scheduled time for installation.
The installation expert will ask for any additional information you'd like to provide when it comes to your flat screen TV install. You can provide images of the area where you'd like the television installed to us via email at sales@ielectronics.com
Please be at your home at the scheduled installation time. Our flat screen installer(s) will arrive at that time with all supplies needed, as well as additional supplies you may choose to purchase at the time of your flat screen install.
Thank you for considering iElectronics for your TV install and flat screen tv mounting needs.
Our Work Is Guaranteed
We guarantee all labor for 2 years.
Do You Need Additional Installations or Work?
Before we even open a box, we'll provide you with estimates for all the work to be done.
Here are some situations which may require additional work:
Installations where a masonry, plaster or solid concrete wall must be penetrated
Additional instruction on use or programming of "learning" remote controls
Locations with inadequate access to the wall in which the wire is to be hidden, i.e., no attic or basement access
Applications in external walls that contain insulation, vapor barrier or other obstructions
Installations requiring electrical work, carpentry or floor covering modifications
Moving or assembling furniture
Installation involving travel beyond a 25-mile radius from zip code 63143.
Satellite installations requiring a pole mount
Homes over 4000 sq. ft. require a walkthrough and bid
Line Card coming soon!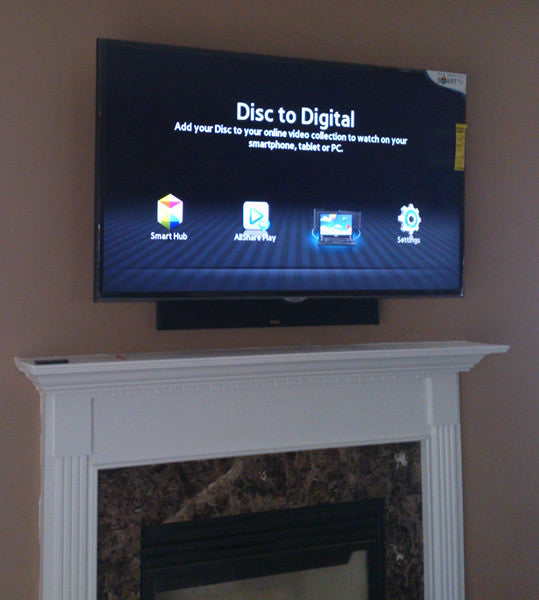 This product is eligible for free shipping in an order of over $49. Purchase more than $49 worth of products and take advantage of free shipping today.
This product is eligible for free shipping. Buy now to take advantage of free shipping on this item.
This item is only shipped using ground freight shipping. Add to cart and hit the checkout button to see shipping charges for this product.
This product is eligible for free ground shipping. Complete your order now to take advantage of free shipping on this product.
Standard shipping fees apply to this product. Add to cart and hit the checkout button to see shipping charges for this product.
Home Theater
This product is easily integrated into larger home theater systems and home entertainment systems. This product has proven the quality to be considered Home Theater Ready. Start building your home theater today.
Smart televisions, surround sound systems, soundbars and more are available from iElectronics.com, your online destination for home theater equipment and home entertainment systems.
Home Automation
This product has been certified to work well with home automation systems. It is easily integrated with Universal Remote Control, Control4 Home Automation Systems, and other home automation components.
No matter your home automation need, iElectronics.com has the solution for you, from Control4 components to full home automation and Universal Remote Control systems, including expert installation from highly-trained technicians.
Manufacturer guidelines state that this item cannot be directly purchased online. We are able to sell this item to you in our retail location, please call for details.
Give us a call at 1-866-795-5120 for pricing and more information.
Hello there. Would you like a discount?
Valid on this product only:
Flat Screen TV Installation
Enter in your name and email address in the form below and submit it to have us automatically email your one time use coupon that is good for today only.
Please check your junk folder for our email. To ensure proper email delivery add mail@ielectronics.com to your address book.

Thank you! Here is your coupon. To activate it, enter the code below at checkout.
This coupon is valid until the end of the day today, and while supplies last.
An error occurred when processing your request.
Please call us at 1-866-795-5120 for immediate assistance.