Product Description
Designed to provide high performance in a very compact footprint, the FAP40T appeals to both system designers and architects. FAP40T is ideal for high-intelligibility voice, music, and signal reproduction in commercial, industrial, and institutional applications. A unique (patent pending) tap selector switch design allows for easy system tuning. A full selection of taps up to 16 watts as well as an 8 ohm transformer bypass setting is included for maximum system versatility. This switch "knob" also functions as a diffuser cone, providing smooth, even dispersion of the high frequency content from the center of the 4" polypropylene driver. In fact, the high frequency response of the FAP40T is so natural that many would assume that the driver in the FAP40T was a coaxial design instead of a single cone driver. Low frequency response is enhanced by the tuned and ported enclosure design. The enclosure (UL1480 pending) is constructed of high impact injection molded plastic and includes a press fit grill design that blends quite well with contemporary architecture. A two pole terminal strip housed below a metal removable cover on the back of the FAP40T enclosure allows for easy system wiring as well as "daisy chain" wiring to other FAP40T's or even FASUB70 subwoofers (a great combination!).
General Information
Manufacturer
Atlas Sound LP.
Manufacturer Part Number
FAP40T
Brand Name
Atlas Sound
Product Line
Strategy
Product Model
FAP40T
Product Name
4" Ceiling Speaker System With 70.7/100V-16W Transformer And 8? Bypass
Product Type
Speaker
Technical Information
RMS Output Power
16 W
PMPO Output Power
32 W
Driver Type
4" Polypropylene Woofer
Minimum Frequency Response
80 Hz
Maximum Frequency Response
15 kHz
Impedance
8 Ohm
Sensitivity
87 dB
Physical Characteristics
Color
White
Form Factor
In-ceiling
Speaker Installation
Indoor
Height
7.1"
Depth
7.1"
Diameter
7.4"
Miscellaneous
Package Contents

4" Ceiling Speaker System With 70.7/100V-16W Transformer And 8? Bypass
Tile Bridge

Warranty
Limited Warranty
1 Year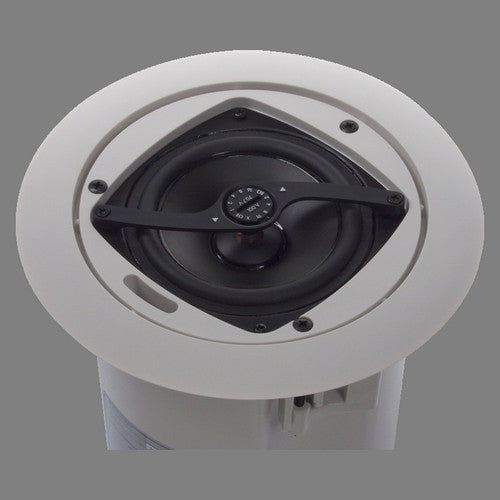 This product is eligible for free shipping in an order of over $49. Purchase more than $49 worth of products and take advantage of free shipping today.
This product is eligible for free shipping. Buy now to take advantage of free shipping on this item.
This item is only shipped using ground freight shipping. Add to cart and hit the checkout button to see shipping charges for this product.
This product is eligible for free ground shipping. Complete your order now to take advantage of free shipping on this product.
Standard shipping fees apply to this product. Add to cart and hit the checkout button to see shipping charges for this product.
Home Theater
This product is easily integrated into larger home theater systems and home entertainment systems. This product has proven the quality to be considered Home Theater Ready. Start building your home theater today.
Smart televisions, surround sound systems, soundbars and more are available from iElectronics.com, your online destination for home theater equipment and home entertainment systems.
Home Automation
This product has been certified to work well with home automation systems. It is easily integrated with Universal Remote Control, Control4 Home Automation Systems, and other home automation components.
No matter your home automation need, iElectronics.com has the solution for you, from Control4 components to full home automation and Universal Remote Control systems, including expert installation from highly-trained technicians.
Manufacturer guidelines state that this item cannot be directly purchased online. We are able to sell this item to you in our retail location, please call for details.
Give us a call at 1-866-795-5120 for pricing and more information.
Hello there. Would you like a discount?
Valid on this product only:
Atlas Sound Strategy FAP40T 16 W RMS - 32 W PMPO Indoor Speaker - White
Enter in your name and email address in the form below and submit it to have us automatically email your one time use coupon that is good for today only.
Please check your junk folder for our email. To ensure proper email delivery add mail@ielectronics.com to your address book.

Thank you! Here is your coupon. To activate it, enter the code below at checkout.
This coupon is valid until the end of the day today, and while supplies last.
An error occurred when processing your request.
Please call us at 1-866-795-5120 for immediate assistance.