Product Description
The FAPSUB-1 adds impressive low frequency response to any full range distributed system.
The FAPSUB-1 consists of a highly efficient 8", 8 ohm subwoofer designed and built by Atlas Sound to work optimality in the FAPSUB-1 enclosure system. A highly efficient, 3-pole filtering network eliminates unwanted high frequencies from the woofer,while the 937 cubic inch, tuned and ported, deep drawn steel enclosure provides bass response down to 45Hz (±10dB).
A special low saturation 70.7V/100V transformer is included with 1.9, 3.8, 7.5, 15, 30 and 60 watt primary taps (@70.7V) to match and balance the subwoofer with full range speakers without the need for separate amplification. A convenient front mounted selector switch allows tap selection without the need to remove the speaker from the ceiling. This tap selector switch also includes a transformer bypass setting for 8 ohm direct coupled applications.
Attractive Grille and Bezel Matches Aesthetics of Other Atlas Sound FAP Series
Detachable, Phoenix Style, Locking, Four-Pole Connector Provides for Easy Daisy Chain Wiring
Easy Installation in Drop Tile or Sheetrock Ceilings via C-ring/V-rail Tile Bridge and "Dog Leg" Mounting System (Included)
Front Mounted Tap Selector Switch for Easy System Tuning Adjustments Includes Transformer Bypass Setting for 8 ohm Direct Coupled Operation
High-Efficiency, Passive Crossover Network Eliminates the Need for Dedicated Amplifier and/or Active Crossover
Low Crossover Point Greatly Reduces Localization (Ability of Listener to Identify the Subwoofer Location)
Uniquely Designed, "Easy Access" Input Panel Design Allows for "Thru" Conduit Runs Using Flexible or Rigid Conduit
Product Downloads
General Information
Manufacturer
Atlas Sound
Manufacturer Part Number
FAPSUB1
Product Type
Speakers - Commercial
Specifications
Speaker Type
In Ceiling Sub
Power Taps
1.9, 3.8, 7.5, 15, 30, 60 Watts & 8O
Frequency Response
45Hz - 120Hz
Dispersion
Omni
Sensitivity
89dB Average
Depth
12 3/4" (32.385 cm)
Diameter
15 3/4" (40.005 cm)
Shipping Weight
21.50 lbs (9.75 kgs)
Certified to Safety Listing
UL 1480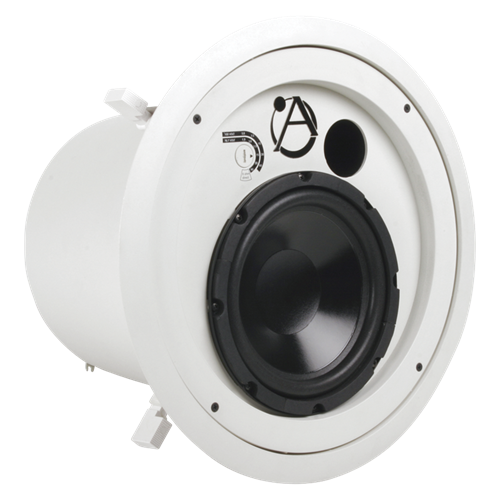 This product is eligible for free shipping in an order of over $49. Purchase more than $49 worth of products and take advantage of free shipping today.
This product is eligible for free shipping. Buy now to take advantage of free shipping on this item.
This item is only shipped using ground freight shipping. Add to cart and hit the checkout button to see shipping charges for this product.
This product is eligible for free ground shipping. Complete your order now to take advantage of free shipping on this product.
Standard shipping fees apply to this product. Add to cart and hit the checkout button to see shipping charges for this product.
Home Theater
This product is easily integrated into larger home theater systems and home entertainment systems. This product has proven the quality to be considered Home Theater Ready. Start building your home theater today.
Smart televisions, surround sound systems, soundbars and more are available from iElectronics.com, your online destination for home theater equipment and home entertainment systems.
Home Automation
This product has been certified to work well with home automation systems. It is easily integrated with Universal Remote Control, Control4 Home Automation Systems, and other home automation components.
No matter your home automation need, iElectronics.com has the solution for you, from Control4 components to full home automation and Universal Remote Control systems, including expert installation from highly-trained technicians.
Manufacturer guidelines state that this item cannot be directly purchased online. We are able to sell this item to you in our retail location, please call for details.
Give us a call at 1-866-795-5120 for pricing and more information.
Hello there. Would you like a discount?
Valid on this product only:
Atlas Sound FAPSUB1 8" Subwoofer Speaker System with 70.7V/100V-60W Transformer
Enter in your name and email address in the form below and submit it to have us automatically email your one time use coupon that is good for today only.
Please check your junk folder for our email. To ensure proper email delivery add mail@ielectronics.com to your address book.

Thank you! Here is your coupon. To activate it, enter the code below at checkout.
This coupon is valid until the end of the day today, and while supplies last.
An error occurred when processing your request.
Please call us at 1-866-795-5120 for immediate assistance.