Product Description
Surface Mount 8" Subwoofer System - Black
The SM8SUB70 8" subwoofer system is perfect for restaurants, bars, and high-fashion retail outlets. The system utilizes a 8" woofer housed in a 915 cubic inch multi-angle, flyable, wood enclosure system to provide extended low frequency response with a wide variety of mounting options. (Not for outdoor use!).
Inserts are included for use with 1/4"-20 drop forge eyebolts, optional SM8CBKT-B /-W mounting bracket and OmniMount™ 30 series hardware.
An 18 dB/octave three-pole passive crossover eliminates the need for a separate electronic network or dedicated amplification to power the speaker. Its low crossover point (120Hz) nearly eliminates localization, allowing a designer to boundary-load the SM8SUB70-B near a wall or into a corner for maximum output, while maintaining even coverage throughout the space.
A premium 70.7V transformer allows the SM8SUB70 to be paralleled with any 70.7V commercial audio system to provide extended low frequency response and more overall audio impact for foreground music systems. (Unit is also 8ohm compatible). Perfect for use with other SM series full range loudspeakers Available In black.
• Attractive, yet heavy-duty grille assembly
• Barrier strip input for 70.7/100V/8 Ohm or parallel 4 pole Speak-OnT input for 8 Ohm operation only
• Durable black, rough-coat finish
• Fuse protection for driver
• Includes internal high efficiency 60 Watt 70.7/100V transformer (may be bypassed for 8 Ohm operation)
• Multiple 1/4"-20 inserts, providing fly points for a variety of mounting configurations
• OmnimountT compatible
• Optional bracket for wall mounting
• Unique input panel allows use of standard 4" square box cover (Raco 753 or eq.) for applications where flex conduit is required for termination
Specs:
Speaker Type Sub
Power Taps 7.5, 15, 30, 60 & 8O
Frequency Response 55Hz to 100Hz
Sensitivity 89dB
Dispersion Omni
Height 15 1/2" (39.37 cm)
Width 10 5/8" (26.9875 cm)
Depth 10 3/8" (26.3525 cm)
Shipping Weight 26.00 lbs (11.79 kgs)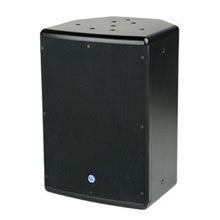 This product is eligible for free shipping in an order of over $49. Purchase more than $49 worth of products and take advantage of free shipping today.
This product is eligible for free shipping. Buy now to take advantage of free shipping on this item.
This item is only shipped using ground freight shipping. Add to cart and hit the checkout button to see shipping charges for this product.
This product is eligible for free ground shipping. Complete your order now to take advantage of free shipping on this product.
Standard shipping fees apply to this product. Add to cart and hit the checkout button to see shipping charges for this product.
Home Theater
This product is easily integrated into larger home theater systems and home entertainment systems. This product has proven the quality to be considered Home Theater Ready. Start building your home theater today.
Smart televisions, surround sound systems, soundbars and more are available from iElectronics.com, your online destination for home theater equipment and home entertainment systems.
Home Automation
This product has been certified to work well with home automation systems. It is easily integrated with Universal Remote Control, Control4 Home Automation Systems, and other home automation components.
No matter your home automation need, iElectronics.com has the solution for you, from Control4 components to full home automation and Universal Remote Control systems, including expert installation from highly-trained technicians.
Manufacturer guidelines state that this item cannot be directly purchased online. We are able to sell this item to you in our retail location, please call for details.
Give us a call at 1-866-795-5120 for pricing and more information.
Hello there. Would you like a discount?
Valid on this product only:
Atlas Sound® 8 inch In/Outdoor Subwoofer (Black)
Enter in your name and email address in the form below and submit it to have us automatically email your one time use coupon that is good for today only.
Please check your junk folder for our email. To ensure proper email delivery add mail@ielectronics.com to your address book.

Thank you! Here is your coupon. To activate it, enter the code below at checkout.
This coupon is valid until the end of the day today, and while supplies last.
An error occurred when processing your request.
Please call us at 1-866-795-5120 for immediate assistance.