Product Description
The Atlas Sound TSD-GPN1200 sound masking generator is perfectly suited for basic sound masking systems. The analog topology design eliminates repeating cycles commonly found in other manufactures low cost digital designs.
The TSD-GPN1200 allows selection between pink or white noise sources and incorporates a variable balanced outputto match input requirements of Atlas Sound equalizers and amplifiers. In addition to the line level output, a 4W, 70V output is provided to power up to six masking loudspeakers tapped at .5W each.
A variable hi-cut filter with operating range between 1kHz and 8kHz at a slope of 6dB per octave supports equalization requirements for most basic Sound Masking systems. Both outputs may be used simultaneously allowing large zones tobe addressed with external equalization and amplification while a smaller zone is powered by the internal 70.7V amplifierwith spectrum control provided by the on board hi-cut filter.
Balanced Line Output Plus 4W, 70.7V Output
Adjustable Gain and Hi-Cut Filter
EQ & Gain Bypass for Line Output
Selectable Pink or White Noise Source
Stand Alone or Rack Mountable
Security Covers Included for All Rear Panel Controls
Product Downloads
General Information
Manufacturer
Atlas/Soundolier
Manufacturer Part Number
TSD-GPN1200
Specifications
Noise Generator
Selectable Pink & White
Line Output Impedance
300O Balanced, 150O Unbalanced
Line Output Level
Max 500mV
Frequency Response
20Hz - 20kHz, Line Out Pre EQ Only
EQ Filter
High Cut Variable,1kHz - 7kHz/6dB
24VDC Power Requirement
250mA
Dimensions
H1.5" (39mm) x W 4" (101mm) x D 2.5" (70mm)
Weight
6oz, .165kgz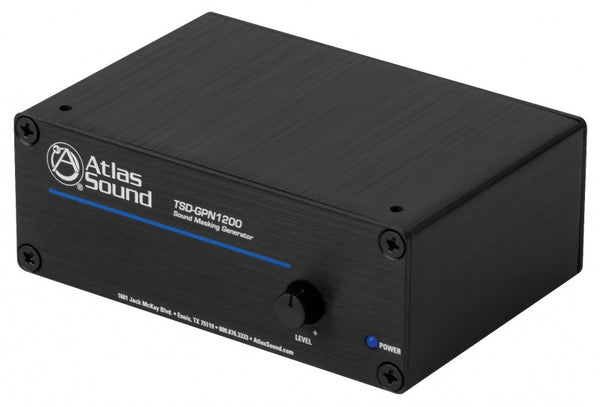 This product is eligible for free shipping in an order of over $49. Purchase more than $49 worth of products and take advantage of free shipping today.
This product is eligible for free shipping. Buy now to take advantage of free shipping on this item.
This item is only shipped using ground freight shipping. Add to cart and hit the checkout button to see shipping charges for this product.
This product is eligible for free ground shipping. Complete your order now to take advantage of free shipping on this product.
Standard shipping fees apply to this product. Add to cart and hit the checkout button to see shipping charges for this product.
Home Theater
This product is easily integrated into larger home theater systems and home entertainment systems. This product has proven the quality to be considered Home Theater Ready. Start building your home theater today.
Smart televisions, surround sound systems, soundbars and more are available from iElectronics.com, your online destination for home theater equipment and home entertainment systems.
Home Automation
This product has been certified to work well with home automation systems. It is easily integrated with Universal Remote Control, Control4 Home Automation Systems, and other home automation components.
No matter your home automation need, iElectronics.com has the solution for you, from Control4 components to full home automation and Universal Remote Control systems, including expert installation from highly-trained technicians.
Manufacturer guidelines state that this item cannot be directly purchased online. We are able to sell this item to you in our retail location, please call for details.
Give us a call at 1-866-795-5120 for pricing and more information.
Hello there. Would you like a discount?
Valid on this product only:
Sound Masking Generator Amplifier
Enter in your name and email address in the form below and submit it to have us automatically email your one time use coupon that is good for today only.
Please check your junk folder for our email. To ensure proper email delivery add mail@ielectronics.com to your address book.

Thank you! Here is your coupon. To activate it, enter the code below at checkout.
This coupon is valid until the end of the day today, and while supplies last.
An error occurred when processing your request.
Please call us at 1-866-795-5120 for immediate assistance.