Product Description
The WMA Series wall cabinets are 16- gauge, welded with 18" deep center-section and adjustable mounting rails, and a 4-1?2" deep rear section. Panel space openings range from 10 RU to 35 RU. Cabinets are equipped with provisions for custom cabinet mounting, wire man­agement, equipment mounting, and structural support.
Cabinets are finished in a black electrostatic powder coat.
All models include adjustable front rack rails tapped 10-32, and manufactured to standard E.I.A. 1?2" spacing. Hat channels provide adjustable rack rail support with securing holes for fixed positioning of rails. Top and Bottom removable 3RU panels are located in the center section of the cabinet for EFP Series fan panels for further ventilation or for isolation panels for power.
General Information
Manufacturer
Atlas Sound LP.
Manufacturer Part Number
WMA10-23
Brand Name
Atlas Sound
Product Series
WMA
Product Model
WMA10-23
Product Name
10RU High Strength Wall Cabinet with Adjustable Rails, 23.5" Deep
Product Type
Rack Cabinet
Physical Characteristics
Form Factor
Wall Mountable
Color
Black
Height
23.1"
Width
21.9"
Depth
23.6"
Rack Height
10U
Rack Depth
18"
Miscellaneous
Country of Origin
United States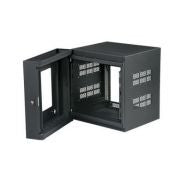 This product is eligible for free shipping in an order of over $49. Purchase more than $49 worth of products and take advantage of free shipping today.
This product is eligible for free shipping. Buy now to take advantage of free shipping on this item.
This item is only shipped using ground freight shipping. Add to cart and hit the checkout button to see shipping charges for this product.
This product is eligible for free ground shipping. Complete your order now to take advantage of free shipping on this product.
Standard shipping fees apply to this product. Add to cart and hit the checkout button to see shipping charges for this product.
Home Theater
This product is easily integrated into larger home theater systems and home entertainment systems. This product has proven the quality to be considered Home Theater Ready. Start building your home theater today.
Smart televisions, surround sound systems, soundbars and more are available from iElectronics.com, your online destination for home theater equipment and home entertainment systems.
Home Automation
This product has been certified to work well with home automation systems. It is easily integrated with Universal Remote Control, Control4 Home Automation Systems, and other home automation components.
No matter your home automation need, iElectronics.com has the solution for you, from Control4 components to full home automation and Universal Remote Control systems, including expert installation from highly-trained technicians.
Manufacturer guidelines state that this item cannot be directly purchased online. We are able to sell this item to you in our retail location, please call for details.
Give us a call at 1-866-795-5120 for pricing and more information.
Hello there. Would you like a discount?
Valid on this product only:
Atlas Sound Wall Rack WMA10-23
Enter in your name and email address in the form below and submit it to have us automatically email your one time use coupon that is good for today only.
Please check your junk folder for our email. To ensure proper email delivery add mail@ielectronics.com to your address book.

Thank you! Here is your coupon. To activate it, enter the code below at checkout.
This coupon is valid until the end of the day today, and while supplies last.
An error occurred when processing your request.
Please call us at 1-866-795-5120 for immediate assistance.