Product Description
The Premium Extender for Residential Systems
The AT-UHD-EX-100CEA-KIT is a premium HDBaseT extender pair for residential systems that require audio from the TV to be amplified by an AVR near the set top box located at some distance from the TV. Return audio may be any audio signal including Dolby or DTS up to 5.1 (based on limitations of optical audio standard). The kit utilizes HDBaseT technology specifically designed to support audio extension based on HDBaseT 2.0 compared with some other solutions which use HDBaseT control channels to transmit return audio which may cause latency or quality issues.
The AT-UHD-EX-100CEA-KIT is ideal for use in residential installations with AVRs and STBs located in a separate area from the TV at longer distances than HDMI cables can support. The receiver to transmitter audio pathway supports digital audio from:
Off-air tuners in many TVs
Game systems located in the same room as TV
Smart TVs with internal apps such as Amazon Prime Video, Hulu and Netflix
4K/UHD HDMI Over 100M HDBaseT TX/RX with Ethernet, Control and PoE and Return Optical Audio
The Atlona AT-UHD-EX-100CEA-KIT is an HDBaseT transmitter/receiver kit for HDMI transmission up to 328 feet (100 meters) over category cable with Ethernet pass through, RS-232 and IR control, Power over Ethernet, and optical audio from receiver to transmitter. This extender kit transmits video signals up to 4K/UHD @ 60Hz, 8-bit color, 4:2:0 chroma subsampling with embedded multi-channel audio and remote 48V power for the receiver. A digital audio pathway returning back across the HDBaseT link from a smart TV to an AVR routes multi-channel audio using TOSLINK optical connectors. Additionally, the kit extends Ethernet, RS-232, and 12 volt-based IR control commands. The kit is HDCP 2.2 compliant and supports EDID communication. Both transmitter and receiver feature one-third rack width metal enclosures for easy rack mounting with rear panel I/O ports for uncluttered wire management.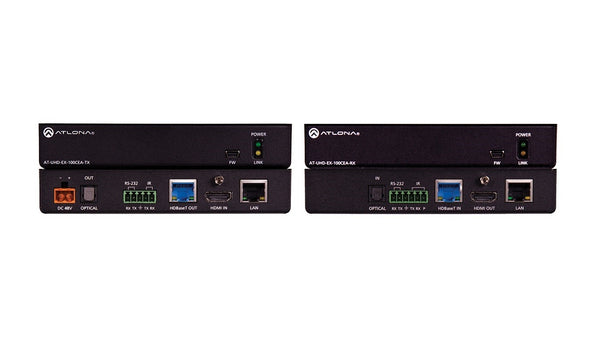 This product is eligible for free shipping in an order of over $49. Purchase more than $49 worth of products and take advantage of free shipping today.
This product is eligible for free shipping. Buy now to take advantage of free shipping on this item.
This item is only shipped using ground freight shipping. Add to cart and hit the checkout button to see shipping charges for this product.
This product is eligible for free ground shipping. Complete your order now to take advantage of free shipping on this product.
Standard shipping fees apply to this product. Add to cart and hit the checkout button to see shipping charges for this product.
Home Theater
This product is easily integrated into larger home theater systems and home entertainment systems. This product has proven the quality to be considered Home Theater Ready. Start building your home theater today.
Smart televisions, surround sound systems, soundbars and more are available from iElectronics.com, your online destination for home theater equipment and home entertainment systems.
Home Automation
This product has been certified to work well with home automation systems. It is easily integrated with Universal Remote Control, Control4 Home Automation Systems, and other home automation components.
No matter your home automation need, iElectronics.com has the solution for you, from Control4 components to full home automation and Universal Remote Control systems, including expert installation from highly-trained technicians.
Manufacturer guidelines state that this item cannot be directly purchased online. We are able to sell this item to you in our retail location, please call for details.
Give us a call at 1-866-795-5120 for pricing and more information.
Hello there. Would you like a discount?
Valid on this product only:
Atlona AT-UHD-EX-100CEA-KIT 4K/UHD HDBaseT HDMI Extender w/IR, RS232, Ethernet, and Audio Breakout
Enter in your name and email address in the form below and submit it to have us automatically email your one time use coupon that is good for today only.
Please check your junk folder for our email. To ensure proper email delivery add mail@ielectronics.com to your address book.

Model:
AT-UHD-EX-100CEA-KIT
Thank you! Here is your coupon. To activate it, enter the code below at checkout.
This coupon is valid until the end of the day today, and while supplies last.
An error occurred when processing your request.
Please call us at 1-866-795-5120 for immediate assistance.