Product Description
The Atlona AT-UHD-SW-52 is a 5x1 HDMI switcher with dual HDMI outputs, balanced audio outputs, auto-switching and advanced control capability. The switcher supports 4K/UHD @ 60 Hz, 4:2:0; offers 3D pass-through, and 10.2 Gbps bandwidth. With front panel buttons and IR control, it can be a standalone switcher. Designed as a cost-effective, easy to install solution, the switcher offers a web-based GUI for easy set-up and management of EDID and HDCP. Additional control options include auto-switching, front panel selector, and compatibility with RS-232, or TCP/IP-based control systems. Audio features include de-embedding of PCM audio over HDMI to either S/PDIF or two-channel analog audio outputs; pass-through of Dolby TrueHD and DTS-HD Master Audio plus an Audio Return Channel feed to the S/PDIF output from the HDMI display. The compact, 1U, half-rack width enclosure is easily installed in rack mounted systems with the included 19" rack-mount brackets. Two units can be mounted side-by-side.
Mirrored, dual HDMI outputs
Supports dual room display environments or primary room display and presenter's confidence monitor
Eliminates cost associated with extra gear; simplifies installation
4K/UHD capability
Compatible with Ultra High Definition sources and displays
Supports high-resolution applications such as CAD, desktop publishing, and detailed financial reporting
Auto-switching
Reduces complexity or eliminates control system completely
Simplifies user operation
TCP/IP, RS-232, and IR control
Flexible control options compatible with 3rd-party control systems
Reduces integration time and costs
EDID management
Manages EDID communications between source and display; allows integrators to force sources to preferred resolution
Ensures desired audio formats and video resolutions are provided to the AV system; eliminates the need for EDID management device
HDCP Management
Allows non-protected material from PCs to pass to non-compliant displays and teleconference systems while protected content is not transmitted
HDCP compliance can be switched on/off from control systems for use with non-compliant displays, streaming devices, and codecs
Easy, GUI-based configuration using integrated web server
Offers menu-based configuration of network settings, RS-232 settings, input switching, EDID, and HDCP management and audio
Allows fast configuration of internal product settings and troubleshooting from a tablet, smart phone, or PC in the field
Volume controls
Volume Up and Volume Down button adjust output level to sound system
Provides quick level adjustment
Volume indicator
Displays volume level of the switcher
Provides quick indication of level during setup
Balanced, line level output
Reduces noise and requirement for external components
Matches requirements of commercial sound systems
Multi-channel audio compliant
Supports PCM, LPCM, Dolby Digital, Dolby Digital Plus, Dolby TrueHD, DTS Digital Surround, and DTS-HD Master Audio
Allows any multi-channel audio stream to be used within a professional audio system
Rack-mountable, 1U, half rack width enclosure
Installs easily in rack-mounted systems with optional 19" rack-mount brackets
Simplifies installations; allows two units to be mounted together
The AT-UHD-SW 52 adds 4K/UHD performance and installation flexibility to Atlona's HDMI small switcher family to meet the needs of professional integration applications. Dual HDMI outputs, balanced audio output, EQ, and volume control add to the AT-UHD-SW-52's long list of features. Incorporating internal video distribution eliminates the need for an external DA to reduce system complexity to save integrators time and money.
The AT-UHD-SW-52 is ideal for use in applications where:
Two displays are needed to cover presentations in large rooms or where a confidence monitor is needed at the presenterâ€s podium along with the primary room display.
Installers need an easy-to-integrate, five-input HDMI switcher with 4K/UHD capability to support multiple sources and mirrored displays to work with any control system.
General Information
Brand
Atlona
Model
AT-UHD-SW-52
Resolution
Video 
4096×2160@24/25/30/50*/60Hz*, 3840×2160@24/25/30/50*/60Hz*, 2048x1080p, 1080p@23.98/24/25/29.97/30/50/59.94/60Hz, 1080i@50/59.94/60Hz, 720p@50/59.94/60Hz, 576p, 576i, 480p, 480i
(*4096×2160@50/60Hz & 3840×2160@50/60Hz supported @ chroma subsampling 4:2:0 8-bit only)
VESA 
2560×2048, 2560×1600, 2048×1536, 1920×1200, 1680×1050, 1600×1200, 1600×900, 1440×900, 1400×1050, 1366×768, 1360×768, 1280×1024, 1280×800 1280×768, 1152×768, 1024×768, 800×600, 640×480
Colorspace
YUV, RGB
Chroma Subsampling
4:4:4, 4:2:2, 4:2:0
Color depth
8-bit, 10-bit, 12-bit
Audio
HDMI IN/OUT
PCM 2Ch, LPCM 5.1, LPCM 7.1, Dolby Digital, DTS 5.1, Dolby Digital+, Dolby TrueHD, DTS-HD Master Audio
S/PDIF
PCM 2Ch, Dolby Digital, DTS 5.1
L/R Audio
maximum analog output: balanced +18dBu @ 0dBfs, 2Ch PCM only
Sample Rate
32kHz, 44.1kHz, 48kHz, 88.2kHz, 96kHz, 176.4kHz, 192kHz
Distance
HDMI IN/OUT @ 4K
up to 5 meters or 15 feet
HDMI IN/OUT @ 1080p
up to 10 meters or 30 feet
Signal
Bandwidth
10.2 Gbps
CEC
Pass through
HDCP
Switchable – Compliant/Non compliant Supports up to HDCP 1.4 (Does not support HDCP 2.2 devices)
Connector
Firmware
Mini-B USB
HDMI
Type A
Digital Audio
S/PDIF
Analog Audio
5-pin captive screw
LAN
RJ45 (8P8C), TCP/IP control
RS-232
3-pin captive screw
Power
2-pin, 5V captive screw
Temperature
Operating
0°C to 50°C/32°F to 122°F
Storage
-20°C to 60°C/-4°F to 140°F
Humidity
20 to 90% non-condensing
Power
Consumption
7.5W
Idle Consumption
1.7W
Supply 
Input: AC100~240V 50/60Hz Output: DC 5V/3.6A
Dimension
H x W x D
44 x 222.25 x 261 (mm)/1.73 x 8.75 x 10.28 (inch)
Rack Unit
1/2 rack, 1RU
Weight
Unit
3.15kg/1.44lbs
Certification
Power Supply
CE, FCC, cULus, RCM
Unit
CE, FCC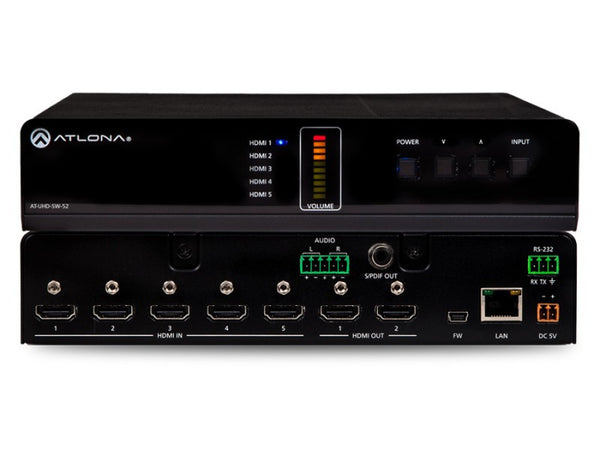 This product is eligible for free shipping in an order of over $49. Purchase more than $49 worth of products and take advantage of free shipping today.
This product is eligible for free shipping. Buy now to take advantage of free shipping on this item.
This item is only shipped using ground freight shipping. Add to cart and hit the checkout button to see shipping charges for this product.
This product is eligible for free ground shipping. Complete your order now to take advantage of free shipping on this product.
Standard shipping fees apply to this product. Add to cart and hit the checkout button to see shipping charges for this product.
Home Theater
This product is easily integrated into larger home theater systems and home entertainment systems. This product has proven the quality to be considered Home Theater Ready. Start building your home theater today.
Smart televisions, surround sound systems, soundbars and more are available from iElectronics.com, your online destination for home theater equipment and home entertainment systems.
Home Automation
This product has been certified to work well with home automation systems. It is easily integrated with Universal Remote Control, Control4 Home Automation Systems, and other home automation components.
No matter your home automation need, iElectronics.com has the solution for you, from Control4 components to full home automation and Universal Remote Control systems, including expert installation from highly-trained technicians.
Manufacturer guidelines state that this item cannot be directly purchased online. We are able to sell this item to you in our retail location, please call for details.
Give us a call at 1-866-795-5120 for pricing and more information.
Hello there. Would you like a discount?
Valid on this product only:
Atlona AT-UHD-SW-52ED 4K/UHD 5 Input HDMI Switcher with Mirrored HDMI - HDBaseT Outputs - PoE
Enter in your name and email address in the form below and submit it to have us automatically email your one time use coupon that is good for today only.
Please check your junk folder for our email. To ensure proper email delivery add mail@ielectronics.com to your address book.

Thank you! Here is your coupon. To activate it, enter the code below at checkout.
This coupon is valid until the end of the day today, and while supplies last.
An error occurred when processing your request.
Please call us at 1-866-795-5120 for immediate assistance.