Product Description
Enjoy simplifed, quiet fan speed control of standard paddle-type ceiling fans with four fan speed buttons and one off button so you can incorporate your fans into climate control scheduling, energy management and other automated events. 120V.
IMPORTANT NOTE: Faceplates are not included. Don't forget to order faceplates separately.
Controls a single paddle-type ceiling fan up to 2A*
Includes four fan speed buttons and one off button
Continuously measures energy being used by the fan
Elegant, sophisticated design makes a beautiful addition to any home or business
Custom engraving available to clearly identify each button
Control4 screw-less faceplates, sold separately, provide a sleek profile
Backlit button engraving with programmable color control for easy readability regardless of time of day or light level
Programmable RGB LEDs provide status feedback for fan speed, lighting and other devices in the system
Ambient light sensor automatically adjusts backlight and status LED brightness depending on the light level in the room
*Fans with integrated lights must have separate control of the fan and the light from the wall location. Do not use the Fan Speed Controller to control the integrated lights. A dedicated dimmer or switch is required for light control. Not for use with shaded-pole type motors (e.g. bathroom exhaust fans).
General Information
Manufacturer
Control4
Manufacturer Part Number
C4-4SF120-IV
Power
Power Requirements
120VAC +/-10%, 50/60Hz
This device requires a neutral connection.
Power Consumption
500mW
Load Types and Ratings
Supported Load Types
Single, paddle-type ceiling fan
Maximum Load
2A
Environmental
Operational Temperature
32° F - 104° F (0° C - 40° C)
Humidity
5% to 95% non-condensing
Storage
-4° F - 158° F (-20° C - 70° C)
Miscellaneous
Control Communications
ZigBee, IEEE 802.15.4, 2.4 GHz, 15-channel spread spectrum radio
Wallbox Volume
5.75 cubic inches
Weight
0.12 lb. (0.05 kg)
Shipping Weight
0.18 lb. (0.08 kg)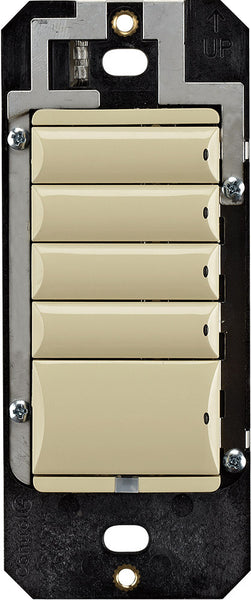 This product is eligible for free shipping in an order of over $49. Purchase more than $49 worth of products and take advantage of free shipping today.
This product is eligible for free shipping. Buy now to take advantage of free shipping on this item.
This item is only shipped using ground freight shipping. Add to cart and hit the checkout button to see shipping charges for this product.
This product is eligible for free ground shipping. Complete your order now to take advantage of free shipping on this product.
Standard shipping fees apply to this product. Add to cart and hit the checkout button to see shipping charges for this product.
Home Theater
This product is easily integrated into larger home theater systems and home entertainment systems. This product has proven the quality to be considered Home Theater Ready. Start building your home theater today.
Smart televisions, surround sound systems, soundbars and more are available from iElectronics.com, your online destination for home theater equipment and home entertainment systems.
Home Automation
This product has been certified to work well with home automation systems. It is easily integrated with Universal Remote Control, Control4 Home Automation Systems, and other home automation components.
No matter your home automation need, iElectronics.com has the solution for you, from Control4 components to full home automation and Universal Remote Control systems, including expert installation from highly-trained technicians.
Manufacturer guidelines state that this item cannot be directly purchased online. We are able to sell this item to you in our retail location, please call for details.
Give us a call at 1-866-795-5120 for pricing and more information.
Hello there. Would you like a discount?
Valid on this product only:
Control4 C4-4SF120-IV Fan Speed Controller 120V - Ivory
Enter in your name and email address in the form below and submit it to have us automatically email your one time use coupon that is good for today only.
Please check your junk folder for our email. To ensure proper email delivery add mail@ielectronics.com to your address book.

Thank you! Here is your coupon. To activate it, enter the code below at checkout.
This coupon is valid until the end of the day today, and while supplies last.
An error occurred when processing your request.
Please call us at 1-866-795-5120 for immediate assistance.