Product Description
The Control4 Wireless 0-10V Dimmer provides elegant, in-wall control of 4-wire 0-10V dimmable fluorescent ballasts and LEDs. Features the same sleek profile and customizable button backlighting and LEDs of other Control4 wireless lighting products.
Capable of sinking or sourcing 100mA for control of up to 50 ballasts
Built-in relay provides separate on/off control of line-voltage when required
Continuously measures energy being used by the attached load
Elegant, sophisticated design makes a beautiful addition to any home or business
Custom engraving available to clearly identify which light each dimmer controls
Backlit button engraving with programmable color control for easy readability regardless of time of day or light level
Programmable RGB LEDs provide status feedback for lighting and other devices in the system
Ambient light sensor automatically adjusts backlight and status LED brightness depending on the light level in the room
Available in a wide array of gloss and satin colors.
Control4 screw-less faceplates, sold separately, provide a sleek profile
Faceplate not included. The sample picture is an approximation of the color due to display resolution limitations and personal settings, actual colors may vary. For a more accurate representation please contact iElectronics for an in-house or in-store demonstration.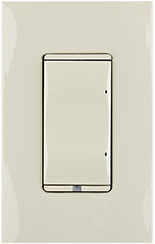 This product is eligible for free shipping in an order of over $49. Purchase more than $49 worth of products and take advantage of free shipping today.
This product is eligible for free shipping. Buy now to take advantage of free shipping on this item.
This item is only shipped using ground freight shipping. Add to cart and hit the checkout button to see shipping charges for this product.
This product is eligible for free ground shipping. Complete your order now to take advantage of free shipping on this product.
Standard shipping fees apply to this product. Add to cart and hit the checkout button to see shipping charges for this product.
Home Theater
This product is easily integrated into larger home theater systems and home entertainment systems. This product has proven the quality to be considered Home Theater Ready. Start building your home theater today.
Smart televisions, surround sound systems, soundbars and more are available from iElectronics.com, your online destination for home theater equipment and home entertainment systems.
Home Automation
This product has been certified to work well with home automation systems. It is easily integrated with Universal Remote Control, Control4 Home Automation Systems, and other home automation components.
No matter your home automation need, iElectronics.com has the solution for you, from Control4 components to full home automation and Universal Remote Control systems, including expert installation from highly-trained technicians.
Manufacturer guidelines state that this item cannot be directly purchased online. We are able to sell this item to you in our retail location, please call for details.
Give us a call at 1-866-795-5120 for pricing and more information.
Hello there. Would you like a discount?
Valid on this product only:
Control4 0-10V Dimmer - Light Almond
Enter in your name and email address in the form below and submit it to have us automatically email your one time use coupon that is good for today only.
Please check your junk folder for our email. To ensure proper email delivery add mail@ielectronics.com to your address book.

Thank you! Here is your coupon. To activate it, enter the code below at checkout.
This coupon is valid until the end of the day today, and while supplies last.
An error occurred when processing your request.
Please call us at 1-866-795-5120 for immediate assistance.