Product Description
The Onyx 96 x 96" Fixed Frame Projection Screen fits together with a minimum of effort in just a few minutes. The aluminum frame slips together into the injection molded corners making a tight and tensioned fit. The frame is made from rugged extruded aluminum and assembles with simple to use tools supplied by Draper.
The frame features a healthy 4" bevel on all sides that makes for a handsome border. Mitered edges give it an additional touch of class. Tension on the screen is equal all around producing a perfectly flat projection surface and is adjustable up to 1.5". The corners of the screen are mitered for a stylish and more professional appearance. It also provides for a stronger and easier to assemble frame.
Draper is your first choice when it comes to projection equipment. It's a name you can trust with a reputation unmatched in audio-visual equipment.
Mitered corners for a better appearance and stronger frame
Assembles in about 10 minutes
Front or rear projection surfaces available
The 4" wide beveled, extruded aluminum frame interconnects on site with one simple hand tool that Draper provides
Each side piece slips and fits tightly into injection molded plastic corners, forming perfectly mitered edges
A radical new approach to fabric attachment will amaze even the toughest of critics
There are no snaps. Uniform tension is applied to the entire surface area, so the surface is perfectly flat
Unique fabric retention system enables you to adjust the surface tension up to 1.5", both vertically and horizontally in increments of approximately 3/8" in just seconds, without tools
Frame Finishes: Black aluminum is standard. Add optional velvety black textile, Vel-Tex, to eliminate reflections.
Depending on surface, available in sizes through 20 x 20'
General Information
Manufacturer
Draper, Inc
Manufacturer Part Number
253205
Brand Name
Draper
Product Line
Onyx
Product Name
Onyx Fixed Frame Projection Screen
Product Type
Projection Screen
Technical Information
Diagonal Image Size
136"
Screen Height
96"
Screen Width
96"
Screen Fabric
M1300
Aspect Ratio
1:1
Screen Folding Mechanism
Fixed Frame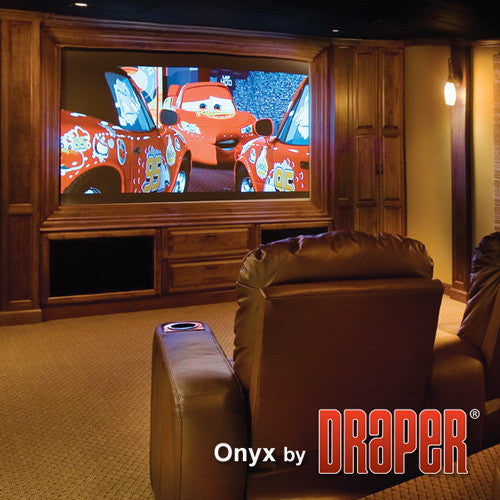 This product is eligible for free shipping in an order of over $49. Purchase more than $49 worth of products and take advantage of free shipping today.
This product is eligible for free shipping. Buy now to take advantage of free shipping on this item.
This item is only shipped using ground freight shipping. Add to cart and hit the checkout button to see shipping charges for this product.
This product is eligible for free ground shipping. Complete your order now to take advantage of free shipping on this product.
Standard shipping fees apply to this product. Add to cart and hit the checkout button to see shipping charges for this product.
Home Theater
This product is easily integrated into larger home theater systems and home entertainment systems. This product has proven the quality to be considered Home Theater Ready. Start building your home theater today.
Smart televisions, surround sound systems, soundbars and more are available from iElectronics.com, your online destination for home theater equipment and home entertainment systems.
Home Automation
This product has been certified to work well with home automation systems. It is easily integrated with Universal Remote Control, Control4 Home Automation Systems, and other home automation components.
No matter your home automation need, iElectronics.com has the solution for you, from Control4 components to full home automation and Universal Remote Control systems, including expert installation from highly-trained technicians.
Manufacturer guidelines state that this item cannot be directly purchased online. We are able to sell this item to you in our retail location, please call for details.
Give us a call at 1-866-795-5120 for pricing and more information.
Hello there. Would you like a discount?
Valid on this product only:
Draper Onyx 253205 Fixed Frame Projection Screen (96 x 96")
Enter in your name and email address in the form below and submit it to have us automatically email your one time use coupon that is good for today only.
Please check your junk folder for our email. To ensure proper email delivery add mail@ielectronics.com to your address book.

Thank you! Here is your coupon. To activate it, enter the code below at checkout.
This coupon is valid until the end of the day today, and while supplies last.
An error occurred when processing your request.
Please call us at 1-866-795-5120 for immediate assistance.