Product Description
iElectronics is proud to announce our partnership with HouseLogix to offer the VoicePod and all VoicePod accessories right here at iElectronics.com.
iElectronics is an Authorized Online Reseller of HouseLogix products including the long awaited VoicePod. Buy Here, Buy Safe.
Hands-Free
Each VoicePod quietly monitors a room, waiting for you to say "Hello VoicePod" or another "trigger phrase" to bring it to life. Once activated, VoicePod's embedded software instantly acts upon simple speech commands such as "Lights Off" and "Lock Door". A single VoicePod can provide totally hands-free control for rooms as large as 700 square feet and several VoicePods can be used together to cover large rooms.
Simple
VoicePod recognizes simple commands such as "Turn On the Lights", "Lower Temperature", "Watch Television" and "What is the Temperature?" With a little practice, most people find VoicePod's easy-to-remember speech commands more intuitive, efficient and pleasing than navigating traditional touch screens and remotes. Even technically-challenged users enthusiastically embrace VoicePod's simplicity. And VoicePod can successfully recognize commands spoken by most people without the need for voice training.
Fast
VoicePod's all-embedded architecture guarantees immediate recognition and response to all speech commands. VoicePod does not rely on web-based services for speech recognition, so it is lighting fast. Many VoicePod functions, such as the ability to instantly tune TV Channels by speaking their name, are faster than any traditional control method.
Interactive
VoicePod not only listens, but it speaks as well. You can ask VoicePod questions, such as "What is the house status?" or "What is the weather forecast?" and VoicePod instantly retrieves and speaks the requested information. VoicePod can also tell you the time, wake you up in the morning and verbally alert you about specific security concerns, such as open garage doors or unusual temperatures.
Integrated
VoicePod integrates tightly with your home automation system, which allows speech recognition and speaking to occur whenever useful. For example, you can push a button on your remote to instantly invoke VoicePod's TV Channel Selection by Name feature. Or, you can have VoicePod speak when someone opens a door or a sensor indicates an issue with the HVAC system. VoicePod even automatically mutes a room's audio system each time you trigger it, to improve voice recognition performance.
Invisible
On the back of each VoicePod are microphone and audio ports. These ports can be used to connect the VoicePod to a hidden microphone and a room's audio system. When connected this way, the VoicePod device can be concealed under furniture or located in an equipment room. You get complete, hands-free control in the room without any visible equipment on the walls or tables. We call this "invisible control" and it delivers a sensational futuristic experience since you literally converse with your home!
Wireless
VoicePod uses Zigbee wireless communications (Wi-Fi coming soon) to communicate with your home automation system. This allows total flexibility when positioning the VoicePod device in a room. You can experiment with different locations until you find the spot where VoicePod works the best. For large rooms, you can install more than one VoicePod. Using our patented technology, all VoicePods automatically coordinate with each other to insure that only the closest VoicePod wakes up when you say "Hello VoicePod".
Secure
VoicePod can proactively tell you about security concerns such as unlocked doors or unusual temperatures in the house. VoicePod can also provide a means for you to call for help without using your hands in the event of an emergency, such as a fall. VoicePod even offers speaker verification which prevents unauthorized users from performing certain functions, such as disarming the security system.
Customizable
VoicePod has been designed as a flexible and highly customizable platform. For example, with our BeSpoke service, we create special voice commands that are custom-tailored to your home and your lifestyle. VoicePod's software, sound library and configuration can also be customized for commercial uses, such as conference room and hotel room automation.
Multi-Lingual
VoicePod is presently available in English and Spanish. Support for several other languages is planned. VoicePod's speaker-independent phonetic speech recognition technology is able to successfully recognize commands spoken by a wide range of
people regardless of age, gender, accents or regional dialect.
Wow
VoicePod's clever yet simple design makes it the first practical and cost effective solution to utilize speech control in everyday living. VoicePod is a truly groundbreaking technology that literally gives your home automation system a voice. It's the perfect tool for taking your home automation system to a whole new level and it's available today. With VoicePod installed, you will have more pride in your home automation investment than ever before and your family, friends and neighbors will be amazed.
Product Features
Dual high-performance 16-bit DSPs with dedicated on-board flash memory
Embedded noise-robust Speaker Independent (SI) & Speaker Dependent (SD) recognition technologies
Totally Hands-Free wakeup phrases allow VoicePod be activated from anywhere in a room using speech alone with no physical button presses.
Push-to-talk button available for submission of speech commands when hands-free control not needed.
Backlit Color LED Push-to-Talk button provides visual feedback. LED colors are fully customizable.
Hands free mode can be enabled or disabled by holding down the Push-to-talk button.
Built in sound library and TTS (text-to-speech) engine enable dynamic speech feedback to be generated.
Volume up and down buttons control audio output volume level.
Stereo line out port allows output of audio responses to headphones or external amplifier and speakers.
Built-in high sensitivity microphone with software-driven automatic gain control that adapts microphone settings automatically to allow successful voice recognition throughout any room.
External microphone jack allows for external microphone use. External microphones can be used when VoicePod unit needs to be concealed or remotely located and to improve performance in rooms with challenging acoustics.
Tight integration of all speech recognition, speech synthesis, and text-to-speech features with Control4 via a comprehensive Control4 driver.
Channel name feature allows users to instantly tune a TV channel by speaking its name.
Channel number entry mode lets users speak desired channel numbers for any active AV source.
Fully controls any thermostat through Control4 with no custom programming required.
Automatically queries house status information, such as security system status with no custom programming required.
Rapid-fire voice remote control feature allows VoicePod to mimic a standard remote control using voice commands alone.
Protection of menus and commands through secure voice PIN number entry.
Multi-device coordination feature allows more than one VoicePod to be placed in the same room for enhanced hands-free coverage. If more than one VoicePod simultaneously hears the same wakeup phrase, the VoicePods wirelessly communicate with each other in less than 350ms and collectively decide which single device will wake up and interact with the user.
Up to 100 speaker-dependent custom commands can be trained for individual users' voices.
Customizable hands-free trigger phrase training allows users to create their own personalized VoicePod wake-up phrase.
BeSpoke service available for creation of speaker-independent custom voice commands and menus for discriminating homeowners and commercial applications.
Sophisticated Windows configuration tool provided for installing BeSpoke custom menus and updating firmware, sound libraries, and other embedded technologies.
Optional Invisible Control Kit available that provides a powered in-wall microphone, preamp, and cables.
Optional wall mount bracket available that attaches to a standard electrical wall box and conceals cables.
Available colors: Black and White
General Information
Manufacturer
Houselogix
Manufacturer Part Number
VP-ZB-401-B
Product Information
Power Input
90 – 264 VAC
Power Output
5.0V @ 1.2A, 6W MAX
Typical Power Consumption
0.50 W
Regulatory Approvals
FCC CFR Part 15, UL 60950-1, CSA C22.2 No. 60950-1, MET E113588, CE
Environment
Operating temperature: 32 °F to 104 °F (0 °C to 40 °C), 0% to 90% humidity, noncondensing. Indoor use only.
Communications
IEEE standard 802.15.4 RF communications using the Zigbee Pro HA standard. 3.5mm serial port for advanced configuration and firmware updates.
Built-in Microphone
Omni-directional, -38 ± 3 dB microphone, 1.5 Vdc, 2.2 KOhm, SNR 60 dB
Buttons
Volume Up, Volume Down, and Push-to-Talk on LED membrane at front of unit
Ports
3.5mm serial RS232, 3.5mm stereo audio line out and 3.5mm microphone in
Loss of Power
System settings are stored internally in flash memory. In the event of a power failure, VoicePod returns to its previous state upon rebooting.
Mounting
Table top with rubber feet; separate wall mount accessory optional
What's Included
(1) VoicePod table top unit, (1) power supply, (1) quick start guide
Warranty
1 Year Limited Warranty
US Patent Number
8,340,975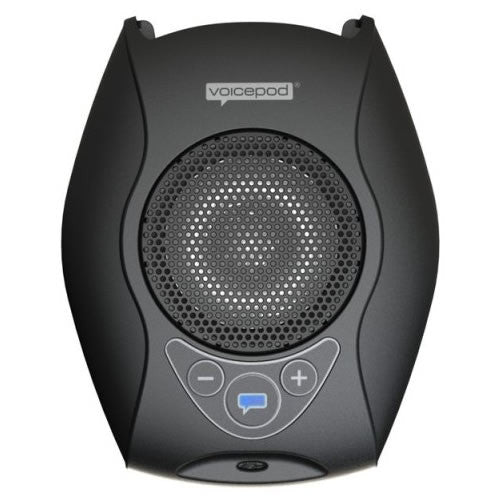 This product is eligible for free shipping in an order of over $49. Purchase more than $49 worth of products and take advantage of free shipping today.
This product is eligible for free shipping. Buy now to take advantage of free shipping on this item.
This item is only shipped using ground freight shipping. Add to cart and hit the checkout button to see shipping charges for this product.
This product is eligible for free ground shipping. Complete your order now to take advantage of free shipping on this product.
Standard shipping fees apply to this product. Add to cart and hit the checkout button to see shipping charges for this product.
Home Theater
This product is easily integrated into larger home theater systems and home entertainment systems. This product has proven the quality to be considered Home Theater Ready. Start building your home theater today.
Smart televisions, surround sound systems, soundbars and more are available from iElectronics.com, your online destination for home theater equipment and home entertainment systems.
Home Automation
This product has been certified to work well with home automation systems. It is easily integrated with Universal Remote Control, Control4 Home Automation Systems, and other home automation components.
No matter your home automation need, iElectronics.com has the solution for you, from Control4 components to full home automation and Universal Remote Control systems, including expert installation from highly-trained technicians.
Manufacturer guidelines state that this item cannot be directly purchased online. We are able to sell this item to you in our retail location, please call for details.
Give us a call at 1-866-795-5120 for pricing and more information.
Hello there. Would you like a discount?
Valid on this product only:
VoicePod Tabletop (Black)
Enter in your name and email address in the form below and submit it to have us automatically email your one time use coupon that is good for today only.
Please check your junk folder for our email. To ensure proper email delivery add mail@ielectronics.com to your address book.

Thank you! Here is your coupon. To activate it, enter the code below at checkout.
This coupon is valid until the end of the day today, and while supplies last.
An error occurred when processing your request.
Please call us at 1-866-795-5120 for immediate assistance.