Product Description
Thanks to a new patent-pending gimbal mechanism, known as Controlled Dispersion Technology (CDT), both the high and low frequencies of the CDT-3650-C can be directed towards the listening area. Because the tweeter is independently adjustable from the woofer, this speaker offers even more precise localization. With integrated whole-house audio systems becoming more popular than ever, Klipsch designed the CDT-3650-C to meet the market's demand for a high-performance in-ceiling loudspeaker that easily challenges the inherent limitations of fixed locations. The CDT-3650-C features a 1" aluminum tweeter mated to a swiveling 100-degree Tractrix Horn. This swiveling horn design dramatically increases efficiency by enabling the speaker to produce more output using less energy. Additionally, a horn-loaded tweeter works well in instances where you want to point the sound to a specific location because it has more controlled directivity than a conventional dome tweeter. The speaker's 6.5" copper-colored IMG woofer also has great positioning capabilities. It can rotate a full 360-degrees and then shift 15-degrees in any direction. This flexibility combined with the swiveling tweeter puts you in complete control of where the sound will go.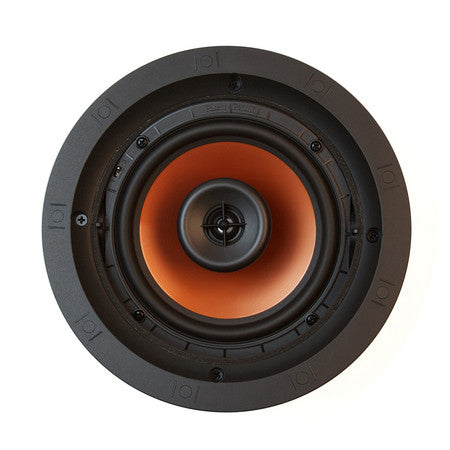 This product is eligible for free shipping in an order of over $49. Purchase more than $49 worth of products and take advantage of free shipping today.
This product is eligible for free shipping. Buy now to take advantage of free shipping on this item.
This item is only shipped using ground freight shipping. Add to cart and hit the checkout button to see shipping charges for this product.
This product is eligible for free ground shipping. Complete your order now to take advantage of free shipping on this product.
Standard shipping fees apply to this product. Add to cart and hit the checkout button to see shipping charges for this product.
Home Theater
This product is easily integrated into larger home theater systems and home entertainment systems. This product has proven the quality to be considered Home Theater Ready. Start building your home theater today.
Smart televisions, surround sound systems, soundbars and more are available from iElectronics.com, your online destination for home theater equipment and home entertainment systems.
Home Automation
This product has been certified to work well with home automation systems. It is easily integrated with Universal Remote Control, Control4 Home Automation Systems, and other home automation components.
No matter your home automation need, iElectronics.com has the solution for you, from Control4 components to full home automation and Universal Remote Control systems, including expert installation from highly-trained technicians.
Manufacturer guidelines state that this item cannot be directly purchased online. We are able to sell this item to you in our retail location, please call for details.
Give us a call at 1-866-795-5120 for pricing and more information.
Hello there. Would you like a discount?
Valid on this product only:
Klipsch CDT-3650-C 6.5" Two-Way Pivoting In-Ceiling Loudspeaker
Enter in your name and email address in the form below and submit it to have us automatically email your one time use coupon that is good for today only.
Please check your junk folder for our email. To ensure proper email delivery add mail@ielectronics.com to your address book.

Thank you! Here is your coupon. To activate it, enter the code below at checkout.
This coupon is valid until the end of the day today, and while supplies last.
An error occurred when processing your request.
Please call us at 1-866-795-5120 for immediate assistance.