Product Description
Kwikset, the leader in residential security, introduces the NEW SmartCode 916 Touchscreen Electronic deadbolt with Control4 Technology! The? SmartCode ?916 ?provides ?all? the ?features of SmartCode - including keyless entry and SmartKey - combined with the added convenience and enhanced aesthetics of a capacitive touchscreen. Expanding your home automation system solution with a Kwikset SmartCode 916 Touchscreen deadbolt will allow the lock? to talk wirelessly to security and home automation systems via Control4.
SPECIFICATIONS:
Sleek metal design
Class leading interior size
Tamper-resistant interior cover
SecureScreen - patent-pending security feature (prevents on-screen fingerprint user code identification)
BHMA Grade 2 Certified
20 Minute Fire Rating - UL Certified
Function: Single cylinder deadbolt
Door Prep: 2 1/8" deameter face hole & 1" diameter latch hole
Backset: Adjustable 2 3/8" or 2 3/4"
Door Thickness: 1 3/8" - 2" automatic adjustment
Faceplates: 1" x 2 1/4" round corner standard
Strikes: Round corner strike 2 3/4" x 2 1/8"
Latch: Round corner adjustable 2 3/8" x 2 3/4"
Bolt: 1" throw, steel deadbolt
Door Handling: Reversible
Cylinder: SmartKey
Wireless Protocol: ZigBee; lock complies with ZigBee standard of open air, line of sight transmission of 250 feet*
Compliant with FCC Part 15
*Range may vary depending on radio frequency environment. Work with your home control platform to optimize range.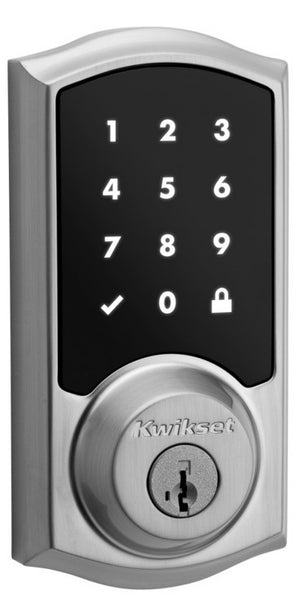 This product is eligible for free shipping in an order of over $49. Purchase more than $49 worth of products and take advantage of free shipping today.
This product is eligible for free shipping. Buy now to take advantage of free shipping on this item.
This item is only shipped using ground freight shipping. Add to cart and hit the checkout button to see shipping charges for this product.
This product is eligible for free ground shipping. Complete your order now to take advantage of free shipping on this product.
Standard shipping fees apply to this product. Add to cart and hit the checkout button to see shipping charges for this product.
Home Theater
This product is easily integrated into larger home theater systems and home entertainment systems. This product has proven the quality to be considered Home Theater Ready. Start building your home theater today.
Smart televisions, surround sound systems, soundbars and more are available from iElectronics.com, your online destination for home theater equipment and home entertainment systems.
Home Automation
This product has been certified to work well with home automation systems. It is easily integrated with Universal Remote Control, Control4 Home Automation Systems, and other home automation components.
No matter your home automation need, iElectronics.com has the solution for you, from Control4 components to full home automation and Universal Remote Control systems, including expert installation from highly-trained technicians.
Manufacturer guidelines state that this item cannot be directly purchased online. We are able to sell this item to you in our retail location, please call for details.
Give us a call at 1-866-795-5120 for pricing and more information.
Hello there. Would you like a discount?
Valid on this product only:
Kwikset SmartCode 916 Touchscreen Deadbolt with Home Connect - Satin Nickel
Enter in your name and email address in the form below and submit it to have us automatically email your one time use coupon that is good for today only.
Please check your junk folder for our email. To ensure proper email delivery add mail@ielectronics.com to your address book.

Thank you! Here is your coupon. To activate it, enter the code below at checkout.
This coupon is valid until the end of the day today, and while supplies last.
An error occurred when processing your request.
Please call us at 1-866-795-5120 for immediate assistance.