Product Description
The Niles Audio HDLCR High Definition Side / Rear Channel In-Wall / In-Ceiling Speaker is designed for use as a high definition, front left, center and right channel in multi-channel music or 5.1 / 7.1 channel home theater systems. They employ several unique components that have been specifically engineered to deliver the most subtle sounds in music or the booming action sound in a movie. This includes the Niles Directed Sound Field Geometry (DSFG). With DSFG, the tweeter is offset which results in the flattest frequency and phase response, offering the optimum performance to a seated listener, even if the speaker is mounted above a built-in TV. With Niles Audio high definition voice matching, these speakers sill be perfectly compatible with other Niles Audio HD in-wall, on-wall, and ceiling-mount models. The ideal setup would include the Niles Audio HDFX speakers, which are used as the side / rear channel speakers. They are the best choice for any home theater where the quality of sound is the most important consideration as they exceed specifications set forth by Dolby Laboratories for the accurate reproduction of Dolby Digital-Encoded Sources. One speaker is included; you will need to purchase three speakers to build out a front left, center and right channel installation.
About the Woofer
The Niles Audio HD speakers have a woofer that features an injection-molded TCC (Talc, Carbon, and Ceramic-filled) polypropylene cone that is extremely stiff and lightweight, which helps reduce breakup and lowers distortion while delivering an accurate, dynamic response. A butyl rubber cone surround dampens midrange resonance and provides exceptional durability. A vented pole piece adds powerful bass response. A bumpback woofer magnet allows a high level of bass performance to be achieved.
About the Tweeter
The Niles Audio HD speakers have a Teteron tweeter with a a tri-laminate design that eliminates unwanted resonances and prevents breakup modes, leaving an ultra-clear, sweet, natural sound which still maintains ultra-wide dispersion for clear and detailed high-frequencies. The tweeter is features precision adjustment control which moves in 1mm increments, then pivots for precise aiming of high frequencies. This can be done post-installation so you can direct sound in the ideal listening area.
Additional Features
There are two controls mounted on the front of the speaker that help fine tune your listening experience. 1) a Bass and Treble controls enable precise tone matching in any room, and 2) a CTR L/R mode switch to optimize performance in applications as either a center channel or left/right loudspeaker for front-channel use. The speaker even has a a knock-out for an infrared (IR) sensor (Niles Audio MS110 - sold separately) installs discreetly behind the aluminum grille, when you want to control your equipment, you simply point your remote control at the speaker.
Please Note: High Definition (HD) Series speakers from Niles are designed for an in-wall (wall mount) installation as their primary application, but can be used for an in-ceiling (ceiling mount) application as well.
Product Features
Dual 5-1/4" Injection-molded TCC (talc, Carbon, And Ceramic-filled) Polypropylene Woofers Offer Extreme Rigidity To Reduce Breakup And Lower Distortion
Long-throw Voice Coil/magnet Structure Increases Cone Excursion To Enhance Low Frequency Response And Dynamic Impact
1" Teteron Dome Tweeter Is Fluid Cooled And Delivers Ultra-wide Dispersion To Reproduce Clear And Detailed High Frequencies
Proprietary Tweeter-adjustment Mechanism Ratchets In 1mm Increments And Then Pivots For Precise Aiming Of High Frequencies
Bass And Treble Controls Enable Precise Tone Matching In Any Room
Includes Paintable, Textured, Pearl White ABS Frame And Microperf Aluminum Grille For A Clean And Unobtrusive Installation
Product Specifications
Impedance: 4 Ohms
Recommended Amplifier Power: 10W To 150W
Frequency Response: 65Hz - 21kHz +/-3dB
Sensitivity: 89dB With 2.83V Pink Noise Input, Measured At 1 Meter On Axis
Frame Dimensions: 8-1/4" X 14-1/2"
Hole Cutout Dimensions: 7-1/8' X 13-1/4'
Depth Behind Wall: 3-1/2" (assumes 1/2' Drywall)
Product Downloads
Download Product Specifications Sheet
General Information
Manufacturer
Niles
Manufacturer Part Number
FG01151
UPC
760514011519
Construction
5-1/4" injection-molded TCC (talc, carbon, and ceramic-filled) polypropylene woofer, 1" fluid-cooled Teteron dome tweeter
Recommended Amplifier Power
10W To 150W per Channel
Nominal Impedance
4Ohms
Frequency Response
65Hz - 21kHz +/-3dB
Sensitivity
89dB for 2.83 volts of Pink Noise, measured at 1 meter on axis
Overall Exterior Frame Dimensions
8-1/4" X 14-1/2"
Depth Behind Wall
3-1/2" (assumes 1/2" Drywall)
Wall Cut-Out Dimensions
7-1/8" X 13-1/4"
Wiring Requirements
We recommend 16 to 18 gauge stranded wire for up to 80 feet, 14 gauge stranded wire for up to two hundred feet. Connectors accommodate 12 to 18 gauge stranded wire
Warranty
Manufacturer Lifetime Limited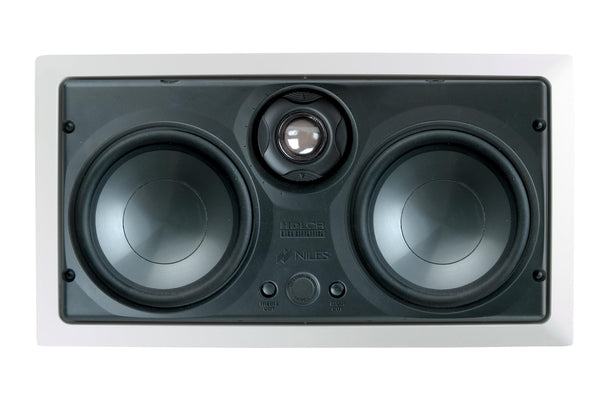 This product is eligible for free shipping in an order of over $49. Purchase more than $49 worth of products and take advantage of free shipping today.
This product is eligible for free shipping. Buy now to take advantage of free shipping on this item.
This item is only shipped using ground freight shipping. Add to cart and hit the checkout button to see shipping charges for this product.
This product is eligible for free ground shipping. Complete your order now to take advantage of free shipping on this product.
Standard shipping fees apply to this product. Add to cart and hit the checkout button to see shipping charges for this product.
Home Theater
This product is easily integrated into larger home theater systems and home entertainment systems. This product has proven the quality to be considered Home Theater Ready. Start building your home theater today.
Smart televisions, surround sound systems, soundbars and more are available from iElectronics.com, your online destination for home theater equipment and home entertainment systems.
Home Automation
This product has been certified to work well with home automation systems. It is easily integrated with Universal Remote Control, Control4 Home Automation Systems, and other home automation components.
No matter your home automation need, iElectronics.com has the solution for you, from Control4 components to full home automation and Universal Remote Control systems, including expert installation from highly-trained technicians.
Manufacturer guidelines state that this item cannot be directly purchased online. We are able to sell this item to you in our retail location, please call for details.
Give us a call at 1-866-795-5120 for pricing and more information.
Hello there. Would you like a discount?
Valid on this product only:
Niles HDLCR In-Wall LCR High Definition Loudspeaker
Enter in your name and email address in the form below and submit it to have us automatically email your one time use coupon that is good for today only.
Please check your junk folder for our email. To ensure proper email delivery add mail@ielectronics.com to your address book.

Thank you! Here is your coupon. To activate it, enter the code below at checkout.
This coupon is valid until the end of the day today, and while supplies last.
An error occurred when processing your request.
Please call us at 1-866-795-5120 for immediate assistance.