Product Description
The DBI-2 doorbell interface by Niles is a wonderful addition to the Niles multizone controls systems as well as multizone control systems from other leading manufacturers. Once externally triggered from either the front or back door, one of the four pre-recorded or two custom recordable chimes will be heard through your Niles MultiZone or similar control system. Double bank DIP switches provide you a selection of all possible chimes. The cust recordable chimes are plated at the same volume as the pre-recorded. These custom chimes can be any analog signals connected to the audio input using an RCA audio cable. Stereo RCA audio cables can be converted to mono using an RCA "Y" Adapter. You have triggers for two individual chimes to offer you an easy way to distinguish between the front and backdoor. No need to worry wheather your doorbell button is lighted or not this system is compatibe with both types providing the voltage for the button if needed. Locating a suitable area to mount the DB-1 should be no trouble at all. Included with the unit are four adhesive rubber feet, these are to be used for locating the unit on a shelf top. Mounting the DB1-2 to the back of a cabinet or wall is possible using screws (not included). If a mounting location is easier than a shelf top, just be sure to disconnect all cables (12VDC power adapter) before actually mounting the unit.
Four selectable chimes
Two user recorded options
Triggered by Contact Closure or Voltage
Both inputs support lighted doorbell buttons
Separate level adjustments for chime & page pass through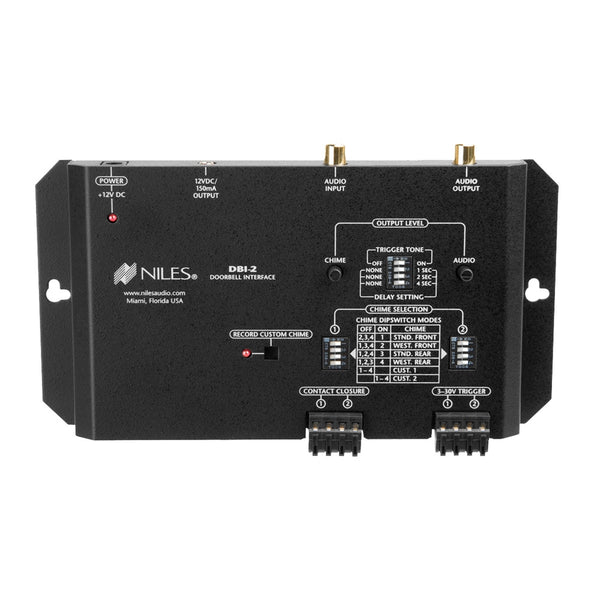 This product is eligible for free shipping in an order of over $49. Purchase more than $49 worth of products and take advantage of free shipping today.
This product is eligible for free shipping. Buy now to take advantage of free shipping on this item.
This item is only shipped using ground freight shipping. Add to cart and hit the checkout button to see shipping charges for this product.
This product is eligible for free ground shipping. Complete your order now to take advantage of free shipping on this product.
Standard shipping fees apply to this product. Add to cart and hit the checkout button to see shipping charges for this product.
Home Theater
This product is easily integrated into larger home theater systems and home entertainment systems. This product has proven the quality to be considered Home Theater Ready. Start building your home theater today.
Smart televisions, surround sound systems, soundbars and more are available from iElectronics.com, your online destination for home theater equipment and home entertainment systems.
Home Automation
This product has been certified to work well with home automation systems. It is easily integrated with Universal Remote Control, Control4 Home Automation Systems, and other home automation components.
No matter your home automation need, iElectronics.com has the solution for you, from Control4 components to full home automation and Universal Remote Control systems, including expert installation from highly-trained technicians.
Manufacturer guidelines state that this item cannot be directly purchased online. We are able to sell this item to you in our retail location, please call for details.
Give us a call at 1-866-795-5120 for pricing and more information.
Hello there. Would you like a discount?
Valid on this product only:
Niles DBI-2 Door Bell Interface
Enter in your name and email address in the form below and submit it to have us automatically email your one time use coupon that is good for today only.
Please check your junk folder for our email. To ensure proper email delivery add mail@ielectronics.com to your address book.

Thank you! Here is your coupon. To activate it, enter the code below at checkout.
This coupon is valid until the end of the day today, and while supplies last.
An error occurred when processing your request.
Please call us at 1-866-795-5120 for immediate assistance.