Product Description
The Niles Audio VCS50K Indoor Stereo Volume Control lets you adjust the volume of a pair of loudspeakers, just as a light dimmer enables you to control the brightness of a light bulb. You can control the sound level, conveniently, in any room of your home. Even if the audio/video system is located downstairs in the living room, you can control the volume of the speakers in the bedroom without ever going downstairs. A volume control connects between the speaker level output of an amplifier, speaker selector, or distribution hub and a pair of speakers.

The VCS50K is an impendence matching volume control with a rotary knob to adjust volume up and down. The Universal Impedance Magnifying circuit enables safe connection of up to eight pairs of speakers to a single amplifier or receiver using the VCHUB8 (sold separately). Make-before-break switch design delivers 10 step, pop-free control for a wide range of listening volumes. Ensure high-fidelity sound at 50 Watts of continuous power handling with flat frequency response (+/- 1.2dB). It includes designer approved screwless Decora-style wall plates in 4 colors (White, Light Almond, Bone, and Black) to blend seamlessly into any decor and accommodates standard one gang electrical boxes.
Power handling: 50 watts per channel RMS (100 watts peak)
10 step control, 42 dB maximum attenuation
Pop-free switching between all steps
Removable wall plate, knob, and Decora-style snap-in inserts for quick color changes
Includes - White, Light Almond, Bone, and Black
| | |
| --- | --- |
| Manufacturer | Niles Audio |
| Manufacturer Product No. | FG01651, VCS50K |
| UPC | 760514016514 |
| Impedance Settings | 1X, 2X, 4X, or 8X Switch |
| Dimensions | 1-5/8" W x 2-5/8" H x 2-9/16" D (behind faceplate) |
| Installation | Requires 1-gang electrical box at least 2-3/4" deep, fits most 18 cubic inch single gang junction boxes |
| Power Handling | 50 W (RMS)/100 W (peak music power) per channel |
| Frequency Response | 20Hz to 20kHz +/- 2dB |
| Minimum Speaker Load | 4 ohm |
| Wiring Requirements | 16 gauge, stranded-copper loudspeaker wire with two individual runs of two-conductor wire, or one run of four-conductor wire |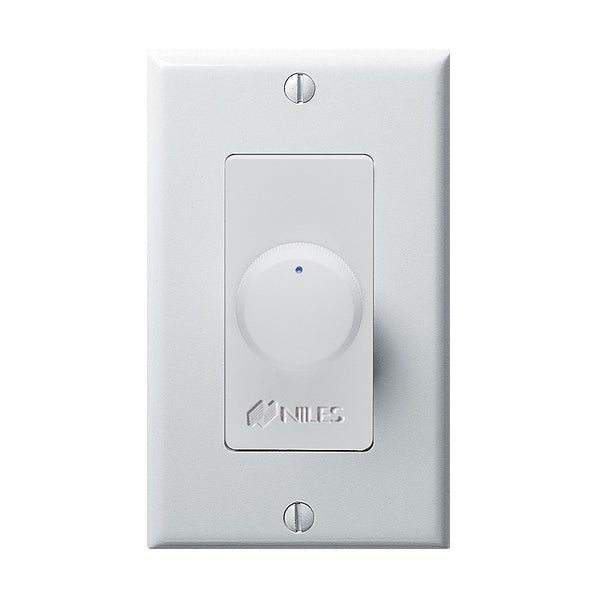 This product is eligible for free shipping in an order of over $49. Purchase more than $49 worth of products and take advantage of free shipping today.
This product is eligible for free shipping. Buy now to take advantage of free shipping on this item.
This item is only shipped using ground freight shipping. Add to cart and hit the checkout button to see shipping charges for this product.
This product is eligible for free ground shipping. Complete your order now to take advantage of free shipping on this product.
Standard shipping fees apply to this product. Add to cart and hit the checkout button to see shipping charges for this product.
Home Theater
This product is easily integrated into larger home theater systems and home entertainment systems. This product has proven the quality to be considered Home Theater Ready. Start building your home theater today.
Smart televisions, surround sound systems, soundbars and more are available from iElectronics.com, your online destination for home theater equipment and home entertainment systems.
Home Automation
This product has been certified to work well with home automation systems. It is easily integrated with Universal Remote Control, Control4 Home Automation Systems, and other home automation components.
No matter your home automation need, iElectronics.com has the solution for you, from Control4 components to full home automation and Universal Remote Control systems, including expert installation from highly-trained technicians.
Manufacturer guidelines state that this item cannot be directly purchased online. We are able to sell this item to you in our retail location, please call for details.
Give us a call at 1-866-795-5120 for pricing and more information.
Hello there. Would you like a discount?
Valid on this product only:
Niles FG01651 VCS50K Stereo Volume Control - White, Bone, Light Almond, Black
Enter in your name and email address in the form below and submit it to have us automatically email your one time use coupon that is good for today only.
Please check your junk folder for our email. To ensure proper email delivery add mail@ielectronics.com to your address book.

Thank you! Here is your coupon. To activate it, enter the code below at checkout.
This coupon is valid until the end of the day today, and while supplies last.
An error occurred when processing your request.
Please call us at 1-866-795-5120 for immediate assistance.