Product Description
Housed in UV-stabilized, long-lasting ABS plastic, the Niles GS4 4" Satellite Loudspeaker ensures years of trouble-free performance that can withstand Mother Nature's toughest extremes, even surviving temperature extremes of -50 degrees to 185 degrees Fahrenheit.
Precision-tuned and voiced to provide the high fidelity audio that Niles is famous for, the GS4 loudspeaker impresses immediately and its wide dispersion characteristics allows users to enjoy the best outdoor audio experience with the ultimate flexibility in speaker placement. Thanks to the pre-installed wall-mount brackets and Niles' Twist & Lock connection, the speaker can easily be mounted on a wall or stake-mounted anywhere high fidelity audio is desired.
The GS4 loudspeaker features a 4" mineral-filled polypropylene woofer for long-lasting performance with rich, deep sound and a 1" Teteron tweeter with ultra-wide dispersion to maximize the sound quality in outdoor environments. With the included UV-resistant cables and waterproof wire-nuts, owners can enjoy long-lasting, trouble free, reliable connections.
Custom Designed, UV-resistant Acoustic Enclosure
4" Mineral-Filled Polypropylene Woofer For Long-lasting Performance With Deep, Rich Sound
1" Teteron Tweeter With Ultra-wide Dispersion To Maximize The Sound Quality In An Outdoor Environment
Dual Mounting Options (included): Stake Mounted For In-ground Use, Wall-mount Bracket To Attach Against Any Flat Surface
Weatherproof Design Assures Reliable Performance Outdoors.
UV-Resistant Connection Cables With Waterproof Wire-nuts To Ensure Trouble Free, Long-lasting Connections
Product Specification
1" Wide Dispersion Soft Dome
Woofer: 4" Mineral-Filled Polypropylene
Recommended Amplifier Power: 10-110 Watts
Frequency Response: 70Hz To 21kHz +/- 3dB
Temperature Extremes: 15° To 160° Fahrenheit (-25° To 70° Celsius)
Product Dimensions: 10-3/4" H X 5-1/2" W X 9" D (27.3 Cm X 14 Cm X 22.9 Cm)
Product Weight: 4lbs (1.8 Kg)
Warranty
Lifetime Limited Warranty
Product Downloads
Download Product Specifications Sheet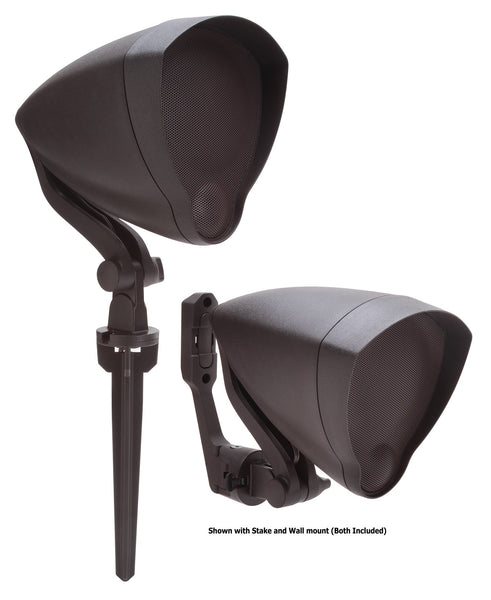 This product is eligible for free shipping in an order of over $49. Purchase more than $49 worth of products and take advantage of free shipping today.
This product is eligible for free shipping. Buy now to take advantage of free shipping on this item.
This item is only shipped using ground freight shipping. Add to cart and hit the checkout button to see shipping charges for this product.
This product is eligible for free ground shipping. Complete your order now to take advantage of free shipping on this product.
Standard shipping fees apply to this product. Add to cart and hit the checkout button to see shipping charges for this product.
Home Theater
This product is easily integrated into larger home theater systems and home entertainment systems. This product has proven the quality to be considered Home Theater Ready. Start building your home theater today.
Smart televisions, surround sound systems, soundbars and more are available from iElectronics.com, your online destination for home theater equipment and home entertainment systems.
Home Automation
This product has been certified to work well with home automation systems. It is easily integrated with Universal Remote Control, Control4 Home Automation Systems, and other home automation components.
No matter your home automation need, iElectronics.com has the solution for you, from Control4 components to full home automation and Universal Remote Control systems, including expert installation from highly-trained technicians.
Manufacturer guidelines state that this item cannot be directly purchased online. We are able to sell this item to you in our retail location, please call for details.
Give us a call at 1-866-795-5120 for pricing and more information.
Hello there. Would you like a discount?
Valid on this product only:
Niles FG01667 GS4 Outdoor Outdoor Speakers with In-Ground/On-Wall Mounting Hardware (Pair)
Enter in your name and email address in the form below and submit it to have us automatically email your one time use coupon that is good for today only.
Please check your junk folder for our email. To ensure proper email delivery add mail@ielectronics.com to your address book.

Thank you! Here is your coupon. To activate it, enter the code below at checkout.
This coupon is valid until the end of the day today, and while supplies last.
An error occurred when processing your request.
Please call us at 1-866-795-5120 for immediate assistance.