Product Description
Home Theater and High Definition sound systems require a dedicated channel for bass and there is no better way to deliver room filling, rich harmonic bass than the Niles line of Compact Powered Subwoofers. Easily configured for professional installations, the Compact Subwoofer is ideal to blend with any home's decor and the built-in mounting bracket option enables an infinite range of installation possibilities for light commercial applications.
Designer Friendly
Engineered with your designer in mind. Compact size gives you various location choices without adding clutter. The unique combination of a fingerprint-resistant finish and smooth piano-like surfaces gives this subwoofer a great overall appearance that is easy to blend into any decor.
Superior Sound Quality
With bass drivers delivering the sound of a subwoofer 4 times the size, it's clear the Niles Compact Subwoofers have what it takes to round out your Home Theater soundscape and virtually any other setup requiring more bass in less space.
Professional Installation Features
Niles Compact Subwoofers feature: Automated Turn-On via 12v trigger or by audio sensing, Built-in CAT5 Balun to permit use of CAT5 cabling for the audio signals, Built-In Bracket Mount compatible with the OmniMount 30.0 ST-MP.
Optional Wireless Sound
With the addition of the SW-T and SW-R wireless transceiver and receivers you can turn any Niles Compact Subwoofer into a wireless solution for applications where running speaker wire is not an acceptable option.
Product Features
Digital Power Amplifier Provides High Output And High Efficiency, With Less Heat Produced Compared To Conventional Analog Power Amplifiers
High Power, Long Throw Active Woofer Drivers Feature Black Anodized Aluminum Cones Which Provide Superior Rigidity Compared To Conventional Paper Cone Designs
Dual Anodized Aluminum Cone Passive Radiators Provide Additional Driver Pistonic Area, And Their Combined Output Along With The Main Active Driver Equals That Of A Larger Single Active Driver
Compatible With The OmniMount 30.0 ST-MP For Easy Wall Or Ceiling-mount Applications
LFE And Stereo (L/R) Line-level Inputs Along With Unbuffered Stereo Pass-through Line Outputs, Which Allow You To Cascade The Output To Up To Three Additional Subwoofers
The C5-A2 Port (RJ-45 Connector) Provides The Option Of An Easier And Less Expensive Wire Run Using CAT-5 Cable From The A/V Receiver Or Processor To The Subwoofer Via An Optional Niles CAT-5 Balun Adapter Using Standard CAT-5 Wiring
Wireless Input Port Provides An Optional Input Connection Option For The Niles FG01672 Wireless Receiver
Adjustable Frequency Control Features A Bypass Position, Eliminating Low Pass Filtering Within The Subwoofer Allowing You To Fully Control The Bass Filtering With An External Receiver Or Preamp. The Variable Phase Control (0°~180°) Allows Precise Phase Matching With The Main Speakers
Auto Sense Feature Provides Energy Efficiency By Putting The Subwoofer Into Standby Mode When No Audio Signals Are Present
Product Specifications
Long-throw, Front Firing-woofer: 6.5"
Dual, Long-throw, Side-mounted Passive Radiators: 6.5"
Amplifier Power (Dynamic): 800w
Amplifier Power (RMS): 200w
Frequency Range: 42-200 Hz
Fingerprint Resistant, Piano-like Finish
CAT5 Wiring Ready
OmniMount Ready
Wireless Ready
Power Requirements: Switchable 100-120v/220-240v, 50-60Hz, 2A
Dimensions With Grille: 8-5/8" H X 8-3/8" W X 9-5/8" D (21.9 Cm X 21.3 Cm X 24.4 Cm)
Shipping Weight: 11 Lbs (5.0 Kg)
Product Downloads
Download Product Speifications Sheet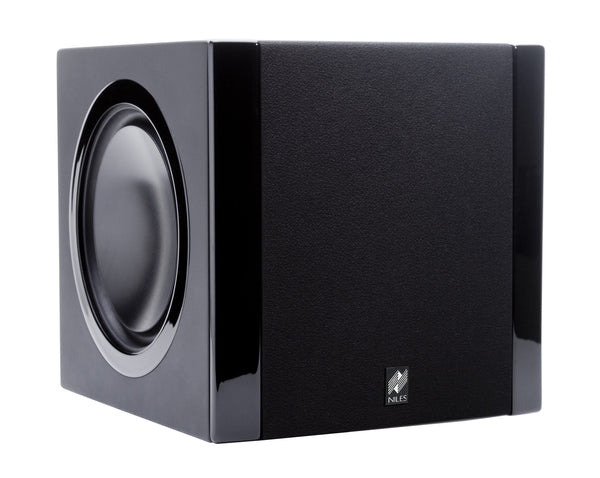 This product is eligible for free shipping in an order of over $49. Purchase more than $49 worth of products and take advantage of free shipping today.
This product is eligible for free shipping. Buy now to take advantage of free shipping on this item.
This item is only shipped using ground freight shipping. Add to cart and hit the checkout button to see shipping charges for this product.
This product is eligible for free ground shipping. Complete your order now to take advantage of free shipping on this product.
Standard shipping fees apply to this product. Add to cart and hit the checkout button to see shipping charges for this product.
Home Theater
This product is easily integrated into larger home theater systems and home entertainment systems. This product has proven the quality to be considered Home Theater Ready. Start building your home theater today.
Smart televisions, surround sound systems, soundbars and more are available from iElectronics.com, your online destination for home theater equipment and home entertainment systems.
Home Automation
This product has been certified to work well with home automation systems. It is easily integrated with Universal Remote Control, Control4 Home Automation Systems, and other home automation components.
No matter your home automation need, iElectronics.com has the solution for you, from Control4 components to full home automation and Universal Remote Control systems, including expert installation from highly-trained technicians.
Manufacturer guidelines state that this item cannot be directly purchased online. We are able to sell this item to you in our retail location, please call for details.
Give us a call at 1-866-795-5120 for pricing and more information.
Hello there. Would you like a discount?
Valid on this product only:
Niles SW6.5 6.5" Powered Compact Subwoofer - Each (Black)
Enter in your name and email address in the form below and submit it to have us automatically email your one time use coupon that is good for today only.
Please check your junk folder for our email. To ensure proper email delivery add mail@ielectronics.com to your address book.

Thank you! Here is your coupon. To activate it, enter the code below at checkout.
This coupon is valid until the end of the day today, and while supplies last.
An error occurred when processing your request.
Please call us at 1-866-795-5120 for immediate assistance.