Product Description
HOME THEATER POWER MANAGEMENT
AC power, telephone and coax lines can provide direct pathways for surges and spikes to enter and damage expensive audio/video equipment. M8-AV eliminates voltage irregularities & protects your AV system.
SURGE PROTECTION
Panamax's patented AVM circuitry continuously monitors the incoming line voltage and disconnects your equipment in the event of an over voltage or undervoltage (brownout). Power is automatically reconnecte dwhen voltage returns to a safe level, eliminating service calls or system downtime.
IMPROVES PICTURE & SOUND QUALITY
The M8-AV's Power Cleaning and Filtration eliminate common symptoms of contaminated power (including loss of detail, pops, hisses, hums and visual artifacts) and allows your A/V equipment to perform up to its full capability.
Product Highlights
Protect or Disconnect™ circuitry
8 AC outlets
2 sets of coaxial input/output jacks (for cable, antenna, or satellite TV)
1 set of input/output jacks for telephone connections
8-foot power cord with right-angle plug
1650-joule surge protection
UL 1449 Rating: 500V
response time: less than 1 nanosecond
wall-mountable (brackets and hardware included)
12"W X 1-3/16"H x 5"D
weight: 3.5 lbs.
lifetime $5,000,000 connected equipment warranty (covers equipment damaged by an AC or signal line surge while connected to properly installed Panamax surge protector); valid only in the United States and Canada
lifetime product warranty
General Information
Manufacturer
Panamax
Manufacturer Part Number
M8-AV
Brand Name
Panamax
Product Line
MAX
Product Name
MAX 8-Outlets Surge Suppressor
Product Type
Surge Suppressor/Protector
Technical Information
Receptacles
8
Dataline Protection

RJ-11 Phone
Coaxial Cable Line

Power Description
Surge Energy Rating
1125 J
Physical Characteristics
Height
2.5"
Width
9.3"
Depth
12.8"
Weight (Approximate)
3.15 lb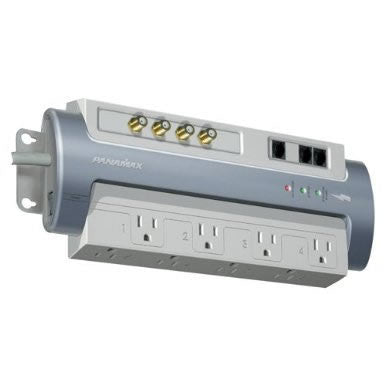 This product is eligible for free shipping in an order of over $49. Purchase more than $49 worth of products and take advantage of free shipping today.
This product is eligible for free shipping. Buy now to take advantage of free shipping on this item.
This item is only shipped using ground freight shipping. Add to cart and hit the checkout button to see shipping charges for this product.
This product is eligible for free ground shipping. Complete your order now to take advantage of free shipping on this product.
Standard shipping fees apply to this product. Add to cart and hit the checkout button to see shipping charges for this product.
Home Theater
This product is easily integrated into larger home theater systems and home entertainment systems. This product has proven the quality to be considered Home Theater Ready. Start building your home theater today.
Smart televisions, surround sound systems, soundbars and more are available from iElectronics.com, your online destination for home theater equipment and home entertainment systems.
Home Automation
This product has been certified to work well with home automation systems. It is easily integrated with Universal Remote Control, Control4 Home Automation Systems, and other home automation components.
No matter your home automation need, iElectronics.com has the solution for you, from Control4 components to full home automation and Universal Remote Control systems, including expert installation from highly-trained technicians.
Manufacturer guidelines state that this item cannot be directly purchased online. We are able to sell this item to you in our retail location, please call for details.
Give us a call at 1-866-795-5120 for pricing and more information.
Hello there. Would you like a discount?
Valid on this product only:
Panamax M8-AV MAX 8-Outlet Power line conditioner and surge protector
Enter in your name and email address in the form below and submit it to have us automatically email your one time use coupon that is good for today only.
Please check your junk folder for our email. To ensure proper email delivery add mail@ielectronics.com to your address book.

Thank you! Here is your coupon. To activate it, enter the code below at checkout.
This coupon is valid until the end of the day today, and while supplies last.
An error occurred when processing your request.
Please call us at 1-866-795-5120 for immediate assistance.