Product Description
Panamax MB1500 Fully Programmable UPS Power Conditioner and Voltage Regulator, BlueBOLT Compatible
Say hello to the guardian angel of your electrical devices. This UPS (uninterruptible power supply) from Panamax acts as a battery backup that protects your devices from unexpected low-voltage condition. If there's a black out or if your power goes out, this UPS delivers a dependable stream of power to your electronics giving you time to shut down everything safely.
Lots of Connections for Your Gear
This device gives you eight outlets for protecting your equipment. The outlets are battery powered and surge protected insuring temporary, uninterrupted operation of connected equipment during a power failure. Included are four critical load and four non-critical load outlets. The difference between the two is the "non-critical load" outlets will shut off when the batteries drain to a designated level. This feature reserves the remaining battery charge for the "critical load" outlets, which can be useful for connecting components that benefit the most from battery backup, such as a DLP TV.
Clean Power, Optimum Performance
Panamax's patent pending AVM (Automatic Voltage Monitoring) circuitry continuously monitors the incoming power as displayed on the digital voltmeter. In case of an undervoltage or an overvoltage, a flashing lightning bolt will be displayed in red in the voltmeter, and power to the connected equipment is automatically turned off if either of these conditions is detected. When voltage returns to a safe level, power to the equipment is automatically reconnected.
LiFT
Panamax's exclusive LiFT (Linear Filtration Technology) filters noise evenly across the entire frequency band, removing the harmonic noise that can keep high-performance equipment from performing at its peak.
IR Control
The unique learning IR function can be programmed to send out shutdown or standby commands to devices such as a home theater projector. (Requires infrared flashers, not included)
RS-232 Port
The RS-232 serial port allows connection and communication between the UPS and an automation or computer system. This allows you to program a number of variables including the Critical Load Battery Threshold.
BlueBOLT
The optional TCP/IP BlueBOLT module (sold separately) allows for additional functions, such as remote diagnostics, control of individual outlet banks, and configuration of email alerts. The Remote Power Management technology provides secure, hosted IP (Internet Protocol) system control. BlueBOLT allows you to remotely monitor and control power to the connected equipment by accessing several power management components via the internet.
Product Highlights
8 AC outlets with 4 programmable isolated banks:

two isolated, battery-protected banks of two outlets for critical-load components
two isolated, battery-protected banks of two outlets for non-critical-load components

1500VA/900W uninterruptible power supply (UPS) provides battery power to components during brief blackouts and brownouts
UPS backup time: 12 minutes with full load, 32 minutes with half load
automatic voltage regulation circuitry ensures that components receive consistent power by maintaining voltage within an optimum range
Automatic Voltage Monitoring circuitry will automatically disconnect equipment from power if it senses an unsafe power condition
LiFT (Linear Filtration Technology) filters noise evenly across the entire frequency band
type-B USB port allows communication between the conditioner and a computer
RS-232 serial communication port for connecting to an automation, media server, or computer system
two 3.5mm jacks for connecting IR flashers (requires infrared flashers, not included)
front-panel LCD display shows status and menu navigation
two resettable circuit breakers provide optimal overload protection
maximum current rating: 12 amps (recommended maximum of 7.5A for battery power)
includes USB cable (Type-A-to-Type-B), serial cable for RS-232, software CD, and rack mounting ears
17-1/16"W x 4"H x 20-11/16"D
weight: 72.5 lbs.
warranty: 3 years (2 years on battery)
Product Downloads
General Information
Manufacturer
Panamax
Manufacturer Part Number
MB1500
Brand Name
Panamax
Product Model
MB1500
Product Name
MB1500 1500VA Rack-mountable UPS
Product Type
Standby UPS
Technical Information
Receptacles
4 x AC Power
Power Description
Load Capacity (VA)
1500 VA
Load Capacity (Watt)
900 W
Input Voltage
120 V AC
Output Voltage
120 V AC
Battery Information
Backup/Run Time (Full Load)
12 Minute
Physical Characteristics
Height
4"
Width
17"
Depth
19"
Form Factor
Rack-mountable
Weight (Approximate)
72.50 lb
Miscellaneous
Package Contents

MB1500 1500VA Rack-mountable UPS
Front Rack Ear Kit

Warranty
Limited Warranty
3 Year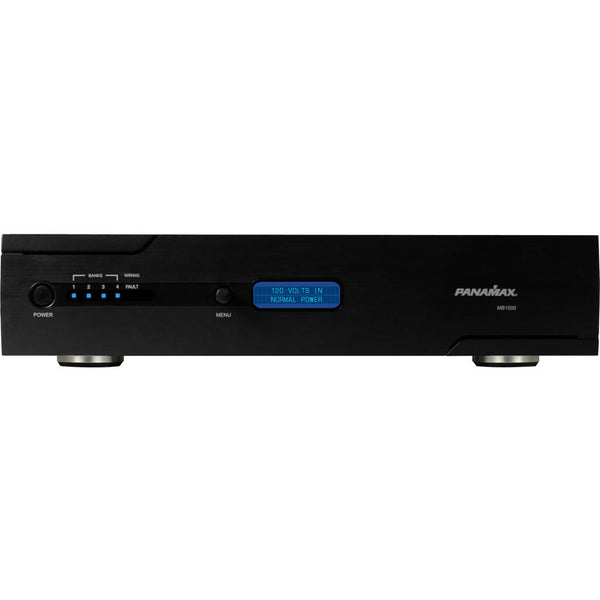 This product is eligible for free shipping in an order of over $49. Purchase more than $49 worth of products and take advantage of free shipping today.
This product is eligible for free shipping. Buy now to take advantage of free shipping on this item.
This item is only shipped using ground freight shipping. Add to cart and hit the checkout button to see shipping charges for this product.
This product is eligible for free ground shipping. Complete your order now to take advantage of free shipping on this product.
Standard shipping fees apply to this product. Add to cart and hit the checkout button to see shipping charges for this product.
Home Theater
This product is easily integrated into larger home theater systems and home entertainment systems. This product has proven the quality to be considered Home Theater Ready. Start building your home theater today.
Smart televisions, surround sound systems, soundbars and more are available from iElectronics.com, your online destination for home theater equipment and home entertainment systems.
Home Automation
This product has been certified to work well with home automation systems. It is easily integrated with Universal Remote Control, Control4 Home Automation Systems, and other home automation components.
No matter your home automation need, iElectronics.com has the solution for you, from Control4 components to full home automation and Universal Remote Control systems, including expert installation from highly-trained technicians.
Manufacturer guidelines state that this item cannot be directly purchased online. We are able to sell this item to you in our retail location, please call for details.
Give us a call at 1-866-795-5120 for pricing and more information.
Hello there. Would you like a discount?
Valid on this product only:
Panamax MB1500 8-Outlet Fully Programmable UPS Power Conditioner
Enter in your name and email address in the form below and submit it to have us automatically email your one time use coupon that is good for today only.
Please check your junk folder for our email. To ensure proper email delivery add mail@ielectronics.com to your address book.

Thank you! Here is your coupon. To activate it, enter the code below at checkout.
This coupon is valid until the end of the day today, and while supplies last.
An error occurred when processing your request.
Please call us at 1-866-795-5120 for immediate assistance.