Product Description
FIREWALL FOR NOISE CIRCUITRY
This technology provides enhanced Neutral-to-Ground Noise Filtration for your digital office equipment. EMI/RFI noise can contaminate the equipment safety ground, which in turn will contaminate the connected digital equipment, and prevent it from operating at peak performance levels.
GFCI COMPATIBILITY
This circuit features an improved 2-stage common-mode architecture that provides compatibility for GFCI's per NEC article 250.6.
NOISE FILTRATION
Circuitry prevents EMI/RFI noise from contaminating the connected digital equipment through the ground wiring.
AUTOMATIC VOLTAGE MONITORING (AVM)
This power monitoring system acts as a gate to prevent unsafe voltages from damaging sensitive electronic equipment. It automatically detects a prolonged over-voltage or under-voltage and disconnects the power to the connected equipment, then reconnects it when the power returns to a safe level. It even protects the MIP-20LT unit.
SIGNALPERFECT TELEPHONE LINE PROTECTION
RJ-11 phone jacks are available to protect a single-line telephone modem (pins 4,5 protected) with fuseless Auto-Resetting technology and optimized circuitry to ensure a clean, clear signal.
WIRING FAULT SAFETY SHUTOFF
This technology will detect a miswired wall receptacle or an open-ground by monitoring the voltage between neutral and ground. If an unsafe condition exists, the MIP-20LT will disconnect the power from the connected equipment.
CAT5E ETHERNET LAN PROTECTION
RJ-45 jacks are available to protect one Ethernet 10/100/1000BASE-T network conection (all pins protected).
General Information
Manufacturer
Panamax
Manufacturer Part Number
MIP20LT
Brand Name
Panamax
Product Type
Line Conditioner
Product Model
MIP-20LT
Product Name
MIP-20LT Line Conditioner
Technical Information
Protection Type

Over Voltage
AC Surge
Under Voltage
EMI / RFI
AC Noise
Neutral to Ground
Line to Ground
Line to Neutral

Receptacles
2
Power Description
Input Voltage
110 V AC
Frequency
60 Hz
Surge Energy Rating
1650 J
Physical Characteristics
Power Cord/Cable
8 ft
Height
2.5"
Width
10.3"
Depth
4.8"
Weight (Approximate)
4.50 lb
Miscellaneous
Package Contents

MIP-20LT Line Conditioner
2 x Telco Cables

Warranty
Limited Warranty
Lifetime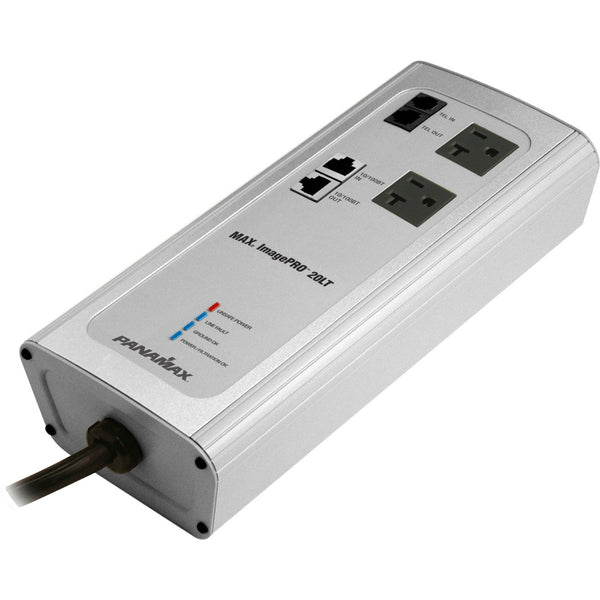 This product is eligible for free shipping in an order of over $49. Purchase more than $49 worth of products and take advantage of free shipping today.
This product is eligible for free shipping. Buy now to take advantage of free shipping on this item.
This item is only shipped using ground freight shipping. Add to cart and hit the checkout button to see shipping charges for this product.
This product is eligible for free ground shipping. Complete your order now to take advantage of free shipping on this product.
Standard shipping fees apply to this product. Add to cart and hit the checkout button to see shipping charges for this product.
Home Theater
This product is easily integrated into larger home theater systems and home entertainment systems. This product has proven the quality to be considered Home Theater Ready. Start building your home theater today.
Smart televisions, surround sound systems, soundbars and more are available from iElectronics.com, your online destination for home theater equipment and home entertainment systems.
Home Automation
This product has been certified to work well with home automation systems. It is easily integrated with Universal Remote Control, Control4 Home Automation Systems, and other home automation components.
No matter your home automation need, iElectronics.com has the solution for you, from Control4 components to full home automation and Universal Remote Control systems, including expert installation from highly-trained technicians.
Manufacturer guidelines state that this item cannot be directly purchased online. We are able to sell this item to you in our retail location, please call for details.
Give us a call at 1-866-795-5120 for pricing and more information.
Hello there. Would you like a discount?
Valid on this product only:
Panamax MIP-20LT Line Conditioner
Enter in your name and email address in the form below and submit it to have us automatically email your one time use coupon that is good for today only.
Please check your junk folder for our email. To ensure proper email delivery add mail@ielectronics.com to your address book.

Thank you! Here is your coupon. To activate it, enter the code below at checkout.
This coupon is valid until the end of the day today, and while supplies last.
An error occurred when processing your request.
Please call us at 1-866-795-5120 for immediate assistance.