Product Description
Guard your gear in tight spaces
Protect your electronics from harmful surges and spikes, even in places where power strips just won't fit. The Panamax Power360 P360-Dock sits over your AC wall outlet and safely provides power for six components. You also get two protected USB charging ports. While you charge your phone or tablet, you can rest the device on top of the P360-Dock in a convenient cradle.
Two layers of dependable protection
When a catastrophic power spike hits, like from a lightning strike, the P360-Dock's Protect or Disconnect circuitry reacts in less than a nanosecond, instantly switching off power to your equipment. Then it automatically resets itself when voltage returns to normal. Panamax's SmartGuard feature provides similar protection when under-voltage (brownout) or over-voltage conditions exist. Again, power to your gear is automatically disconnected until voltage returns to safe levels.
Monitor your protection level
Keep an eye on the status of your protection, wiring, and voltage with Panamax's Circle of Protection LED indicator. This multi-color display on the front of the P360-Dock provides easy-to-interpret essential information. You get a real time report you can read at a glance.
6 protected AC power outlets
two USB charging ports with a total capacity of 2.1 amps for charging two phones simultaneously or one tablet
space-saving design plugs directly into a standard AC outlet
Protect or Disconnect circuitry disconnects AC power to equipment in the event of a catastrophic surge or spike
SmartGuard technology offers active over/under voltage monitoring
Circle Of Protection LED display lets you easily monitor protection, wiring, and voltage status
charging cradle to hold your phone or tablet while charging
1080-joule protection
maximum current rating: 15 amps
warranty: lifetime
lifetime $75,000 connected equipment warranty (covers equipment damaged by an AC or signal line surge while connected to properly installed Panamax surge protector); valid only in the United States and Canada)
General Information
Manufacturer
Panamax
Manufacturer Part Number
P360-DOCK
Product Type
Surge Protectors & Conditioners / Usb Surge Protectors
Technical Information
Total AC Outlets
6
High-Current Outlets
None
USB Connections
2
RF-EMI Filtering
No
Joule Rating
1080
Connected Equipment Guarantee
$75,000
Warranty
Parts Warranty
Lifetime
Labor Warranty
Lifetime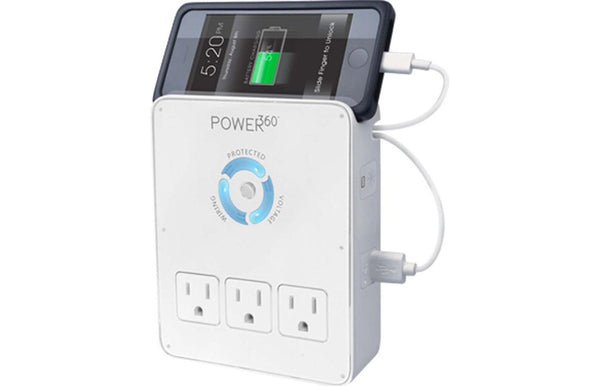 This product is eligible for free shipping in an order of over $49. Purchase more than $49 worth of products and take advantage of free shipping today.
This product is eligible for free shipping. Buy now to take advantage of free shipping on this item.
This item is only shipped using ground freight shipping. Add to cart and hit the checkout button to see shipping charges for this product.
This product is eligible for free ground shipping. Complete your order now to take advantage of free shipping on this product.
Standard shipping fees apply to this product. Add to cart and hit the checkout button to see shipping charges for this product.
Home Theater
This product is easily integrated into larger home theater systems and home entertainment systems. This product has proven the quality to be considered Home Theater Ready. Start building your home theater today.
Smart televisions, surround sound systems, soundbars and more are available from iElectronics.com, your online destination for home theater equipment and home entertainment systems.
Home Automation
This product has been certified to work well with home automation systems. It is easily integrated with Universal Remote Control, Control4 Home Automation Systems, and other home automation components.
No matter your home automation need, iElectronics.com has the solution for you, from Control4 components to full home automation and Universal Remote Control systems, including expert installation from highly-trained technicians.
Manufacturer guidelines state that this item cannot be directly purchased online. We are able to sell this item to you in our retail location, please call for details.
Give us a call at 1-866-795-5120 for pricing and more information.
Hello there. Would you like a discount?
Valid on this product only:
Panamax P360-DOCK 6-Outlet Surge Protector with Built-In USB Charging Station
Enter in your name and email address in the form below and submit it to have us automatically email your one time use coupon that is good for today only.
Please check your junk folder for our email. To ensure proper email delivery add mail@ielectronics.com to your address book.

Thank you! Here is your coupon. To activate it, enter the code below at checkout.
This coupon is valid until the end of the day today, and while supplies last.
An error occurred when processing your request.
Please call us at 1-866-795-5120 for immediate assistance.