Product Description
Designed to blend in and work in almost any environment, theAEC adjustable column range in lengths from 9-12". Whether it's for an office or mounted from a tall cathedral ceiling, the adjustable column supports up to 500lb, making it ideal for exhibit, retail or digital signage applications. The adjustment slot design makes for easy incremental height adjustments to find the perfect position and then securely locking it into place. The AEC column's cylinder shape conveniently offers ample internal space for cable management of multiple cords, ultimately giving a clean look to any installation. For use with Peerless-AV Ceiling mounts.
1-1/2"-11.5 NPT (38mm) aluminum column threaded on both ends
Height adjustment at 1" (25mm) increments
Lightweight aluminum construction for ease of installation and lower freight cost
Offers unobtrusive cable management
Notched adjustment design enables easy height adjustment and position locking
Agion antimicrobial* finish assists in controlling the spread of infections with -AB/-AW models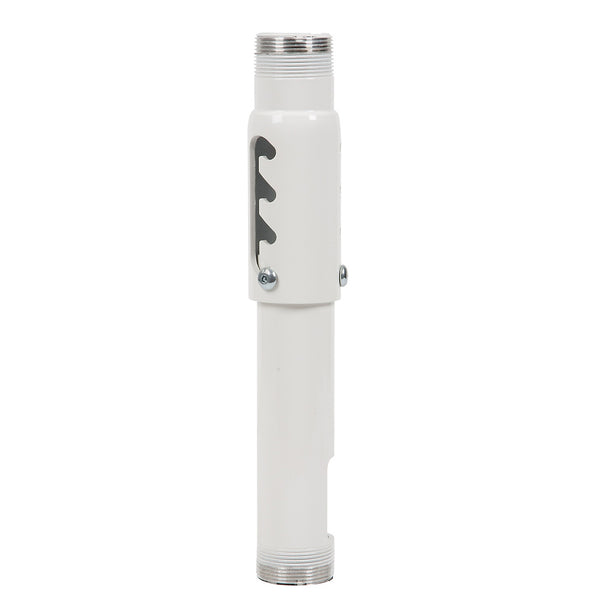 This product is eligible for free shipping in an order of over $49. Purchase more than $49 worth of products and take advantage of free shipping today.
This product is eligible for free shipping. Buy now to take advantage of free shipping on this item.
This item is only shipped using ground freight shipping. Add to cart and hit the checkout button to see shipping charges for this product.
This product is eligible for free ground shipping. Complete your order now to take advantage of free shipping on this product.
Standard shipping fees apply to this product. Add to cart and hit the checkout button to see shipping charges for this product.
Home Theater
This product is easily integrated into larger home theater systems and home entertainment systems. This product has proven the quality to be considered Home Theater Ready. Start building your home theater today.
Smart televisions, surround sound systems, soundbars and more are available from iElectronics.com, your online destination for home theater equipment and home entertainment systems.
Home Automation
This product has been certified to work well with home automation systems. It is easily integrated with Universal Remote Control, Control4 Home Automation Systems, and other home automation components.
No matter your home automation need, iElectronics.com has the solution for you, from Control4 components to full home automation and Universal Remote Control systems, including expert installation from highly-trained technicians.
Manufacturer guidelines state that this item cannot be directly purchased online. We are able to sell this item to you in our retail location, please call for details.
Give us a call at 1-866-795-5120 for pricing and more information.
Hello there. Would you like a discount?
Valid on this product only:
Peerless-AV AEC009012-AW 9-12" Ext Column Antimicrobial - White
Enter in your name and email address in the form below and submit it to have us automatically email your one time use coupon that is good for today only.
Please check your junk folder for our email. To ensure proper email delivery add mail@ielectronics.com to your address book.

Thank you! Here is your coupon. To activate it, enter the code below at checkout.
This coupon is valid until the end of the day today, and while supplies last.
An error occurred when processing your request.
Please call us at 1-866-795-5120 for immediate assistance.