Product Description
The Peerless-AV Modular Mounts Line features a full range of products that can fulfill multiple requirements from a limited number of SKUs. With the universality of the components, configure your own perfect custom flat-panel display or projector mounting solution for any application. The Modular Mount Line was developed with the professional AV installer in mind. Designed around a 2"" (50mm) diameter pole, the line is ideal for new projects as well as for upgrading existing installations. The MOD-FPP2KIT200(-B) is a full featured kit that takes the guess work out of what components are needed to create the perfect flat panel pedestal mount.
211lb (96kg) max weight capacity (per display with up to 4 displays in back to back configuration or 2 displays on one side)
Universal VESA pattern from 200x200 to 600x400
Pole height of 2M (79")
Pedestal Floor Plate mounts to wood or concrete
Chrome or Black Powder Coat poles
Tilt range of +20/-5
Product Downloads
Download Product Installation Instructions
General Information
Manufacturer
Peerless Industries, Inc
Manufacturer Part Number
MOD-FPP2KIT200
Brand Name
Peerless-AV
Product Line
Modular
Product Model
MOD-FPP2KIT200
Product Name
Modular Dual Pole Pedestal KIT
Packaged Quantity
1
Product Type
Floor Mount
Product Information
Device Supported
Flat Panel Display
Maximum Load Capacity
211.64 lb
Minimum Screen Size Supported
46"
Maximum Screen Size Supported
90"
Physical Characteristics
Color
Black
VESA Mount Compatible
Yes
VESA Mount Standard

300 x 200
300 x 300
300 x 400
400 x 200
400 x 400
600 x 400

Miscellaneous
Package Contents

1 x Floor Plate
2 x Pole
2 x Support Clamp
6 x Concrete Anchor
6 x Wood Screw
1 x Tilt Box
1 x Tilt Plate
2 x Horizontal Rail
2 x Vertical Rail
8 x (M5 x 10mm) Socket Pin Screw
8 x (M8 x 15mm) Screw Bolt
2 x (M8 x 55mm) Screw Bolt
2 x Set Screw
3 x 4mm Allen Wrench
1 x 5mm Allen Wrench
2 x (M6 x 80mm) Screw Bolt
2 x (M5 x 16mm) Self Tapping Screw
2 x M6 Hex Nut
2 x Support Collar
4 x (M6 x 12mm) Screw
4 x (M6 x 25mm) Screw
4 x (M8 x 12mm) Screw
4 x (M8 x 25mm) Screw
8 x Spacer
8 x M6/M8 Washer

Country of Origin
United States
Warranty
Limited Warranty
5 Year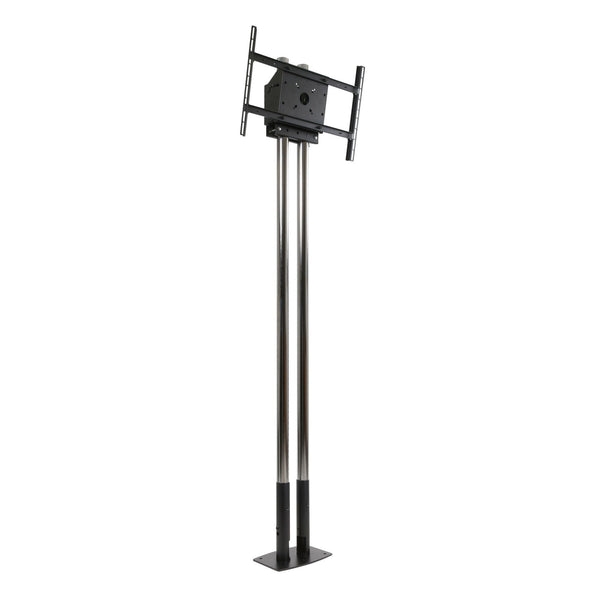 This product is eligible for free shipping in an order of over $49. Purchase more than $49 worth of products and take advantage of free shipping today.
This product is eligible for free shipping. Buy now to take advantage of free shipping on this item.
This item is only shipped using ground freight shipping. Add to cart and hit the checkout button to see shipping charges for this product.
This product is eligible for free ground shipping. Complete your order now to take advantage of free shipping on this product.
Standard shipping fees apply to this product. Add to cart and hit the checkout button to see shipping charges for this product.
Home Theater
This product is easily integrated into larger home theater systems and home entertainment systems. This product has proven the quality to be considered Home Theater Ready. Start building your home theater today.
Smart televisions, surround sound systems, soundbars and more are available from iElectronics.com, your online destination for home theater equipment and home entertainment systems.
Home Automation
This product has been certified to work well with home automation systems. It is easily integrated with Universal Remote Control, Control4 Home Automation Systems, and other home automation components.
No matter your home automation need, iElectronics.com has the solution for you, from Control4 components to full home automation and Universal Remote Control systems, including expert installation from highly-trained technicians.
Manufacturer guidelines state that this item cannot be directly purchased online. We are able to sell this item to you in our retail location, please call for details.
Give us a call at 1-866-795-5120 for pricing and more information.
Hello there. Would you like a discount?
Valid on this product only:
Peerless MOD-FPP2KIT200 Modular Dual Pole Free Standing Kit for 46-90" Displays
Enter in your name and email address in the form below and submit it to have us automatically email your one time use coupon that is good for today only.
Please check your junk folder for our email. To ensure proper email delivery add mail@ielectronics.com to your address book.

Thank you! Here is your coupon. To activate it, enter the code below at checkout.
This coupon is valid until the end of the day today, and while supplies last.
An error occurred when processing your request.
Please call us at 1-866-795-5120 for immediate assistance.