Product Description
It is designed to work with virtually any 26" to 58" Plasma or LCD flat panel display. Compatible with VESA 100 and 200 hole patterns through the integrated adapter plate, the 2" ultra-thin design keeps the screen close to the wall and the mount out of view. With a boxed in wall plate that eliminates the view of the mount hardware from a side view, It is the perfect installation product for residential, public and digital signage, POS stations and office applications. Featuring up to +/- 45 degree of swivel depending on the screen size and up to 10" of pull out, It provides a user with many viewing angles. Additional compatibility with Peerless PLP or LC adapter plates makes the mount a versatile product. Installation and screen mounting are enhanced with the LockKey installation brace. Designed to mount on 16" wood studs, the wall plate accommodates up to 4" of horizontal shift.
General Information
Manufacturer
Peerless Industries, Inc
Manufacturer Part Number
SP850P
Brand Name
Peerless-AV
Product Name
Pull-out Pivot Wall Mount For 32"-80" Displays
Packaged Quantity
1
Product Type
Wall Mount
Product Information
Device Supported
Flat Panel Display
Maximum Load Capacity
150 lb
Minimum Screen Size Supported
26"
Maximum Screen Size Supported
58"
Physical Characteristics
Color
Black
Material
Steel
Weight (Approximate)
17.70 lb
Miscellaneous
Package Contents
Flat Panel Pull-out Swivel Wall Mount Includes:

1 x Wall mount assembly
1 x Locking tab
1 x Spacer (0.219 ID x 0.5 OD x 0.125H)
4 x Hex head wood screw (14 x 2.5")
4 x Alligator anchor
2 x Polyester mesh sleeve (18")
4 x Cable tie
2 x Phillips screw (M4 x 5 mm)
1 x bumper strip
2 x Plastic cable mount
4 x Socket head screw (M10 x 15 mm)
4 x Retaining spacer (0.198 x 0.313 x 0.437H)
1 x Security allen wrench (4 mm)
4 x Phillips screw (M3 x 4 mm)
2 x Spring clip
5 x Screw (M5 x 10 mm)
4 x Screw (M4 x 12 mm)
4 x Screw (M4 x 20 mm)
1 x Screw (M5 x 40 mm)

Compatibility

26"-58" LCD and Plasma Screens

Country of Origin
United States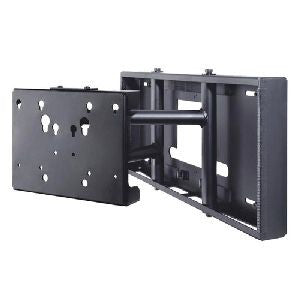 This product is eligible for free shipping in an order of over $49. Purchase more than $49 worth of products and take advantage of free shipping today.
This product is eligible for free shipping. Buy now to take advantage of free shipping on this item.
This item is only shipped using ground freight shipping. Add to cart and hit the checkout button to see shipping charges for this product.
This product is eligible for free ground shipping. Complete your order now to take advantage of free shipping on this product.
Standard shipping fees apply to this product. Add to cart and hit the checkout button to see shipping charges for this product.
Home Theater
This product is easily integrated into larger home theater systems and home entertainment systems. This product has proven the quality to be considered Home Theater Ready. Start building your home theater today.
Smart televisions, surround sound systems, soundbars and more are available from iElectronics.com, your online destination for home theater equipment and home entertainment systems.
Home Automation
This product has been certified to work well with home automation systems. It is easily integrated with Universal Remote Control, Control4 Home Automation Systems, and other home automation components.
No matter your home automation need, iElectronics.com has the solution for you, from Control4 components to full home automation and Universal Remote Control systems, including expert installation from highly-trained technicians.
Manufacturer guidelines state that this item cannot be directly purchased online. We are able to sell this item to you in our retail location, please call for details.
Give us a call at 1-866-795-5120 for pricing and more information.
Hello there. Would you like a discount?
Valid on this product only:
Peerless SP850P Pull-Out Swivel Wall Mount for 32-80" Flat Panel Screens - Black
Enter in your name and email address in the form below and submit it to have us automatically email your one time use coupon that is good for today only.
Please check your junk folder for our email. To ensure proper email delivery add mail@ielectronics.com to your address book.

Thank you! Here is your coupon. To activate it, enter the code below at checkout.
This coupon is valid until the end of the day today, and while supplies last.
An error occurred when processing your request.
Please call us at 1-866-795-5120 for immediate assistance.