Product Description
The black SP850-V2X2 Pull-out Pivot Wall Mount from Peerless Industries combines the key features of a wall mount and a pivot arm. In the closed position, the SP850-V2X2 acts as a flat or tilting wall mount. At only 2.73" from the wall, the wall mount's unique wall plate and built-in cable management neatly hide all components and cords. The sturdy arm construction smoothly glides the display out 11.18" from the wall and allows the flat panel display to pivot up to 45°. This feature not only enables the display to be positioned for an optimal viewing angle, but it also provides easy access to the back of the display for hassle-free maintenance. The SP850-V2X2 Wall Mount is well suited for use in applications where the display needs to be recessed into the wall, custom framed or aligned into a multi-display wall.
Built in pivot up to 90° (45° in each direction) allows for adjustable viewing angles
Easy pull-out pivot provides quick maintenance access
Provides easy access to the back of the display
Dedicated VESA 200 x 200 mounting pattern
2.73" (69mm) deep when retracted, pivot arms extend up to 11.18" (284mm) when extended
Hides cables within enclosed wall plate for a clutter-free installation
IncreLok tilt provides tilt at 0°, 5°, and 10°
±1° of roll for horizontal display leveling during installation
Prevent tampering or theft with unique LockKey installation brace and security screws on the adapter plate
LockKey installation tool secures pivot arms for display installation
Lock-out screw prevents unwanted extension
Mounts to 16" wood studs, concrete and cinder block
Suitable for in-wall or recessed applications
Made in the USA
RoHS compliant
General Information
Manufacturer
Peerless-Av
Manufacturer Part Number
SP850-V2X2
Specifications
Screen Size
Minimum to Maximum: 26 to 65" (66.04 x 165.1 cm)
Pattern
VESA: 200 X 200
Weight Capacity
149.9 lb (68.0 kg)
Finish
Powder Coat
Security Features
Security Hardware
Tilt
0, 5 and 10°
Roll
±1 / -1
Distance from Wall
2.65 to 11.18" (67.31 to 283.97 mm)
Product Dimensions
21.0 x 9.19 x 2.65 to 11.18" (533.4 x 233.4 x 67.31 to 284.9 mm)
Weight
20 lb (9 kg)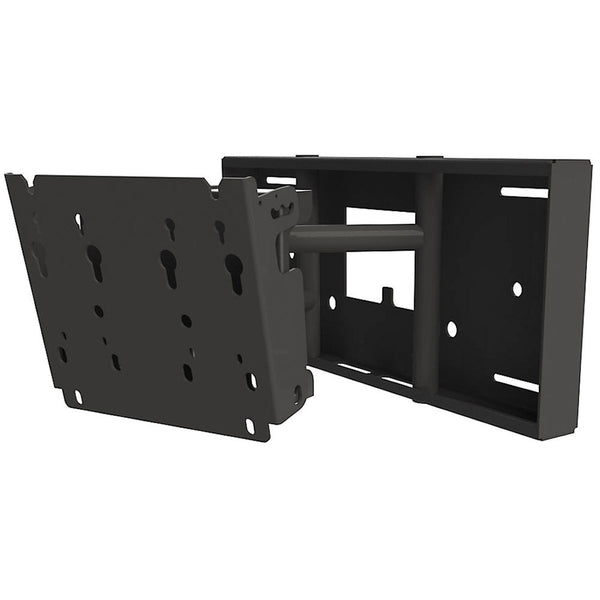 This product is eligible for free shipping in an order of over $49. Purchase more than $49 worth of products and take advantage of free shipping today.
This product is eligible for free shipping. Buy now to take advantage of free shipping on this item.
This item is only shipped using ground freight shipping. Add to cart and hit the checkout button to see shipping charges for this product.
This product is eligible for free ground shipping. Complete your order now to take advantage of free shipping on this product.
Standard shipping fees apply to this product. Add to cart and hit the checkout button to see shipping charges for this product.
Home Theater
This product is easily integrated into larger home theater systems and home entertainment systems. This product has proven the quality to be considered Home Theater Ready. Start building your home theater today.
Smart televisions, surround sound systems, soundbars and more are available from iElectronics.com, your online destination for home theater equipment and home entertainment systems.
Home Automation
This product has been certified to work well with home automation systems. It is easily integrated with Universal Remote Control, Control4 Home Automation Systems, and other home automation components.
No matter your home automation need, iElectronics.com has the solution for you, from Control4 components to full home automation and Universal Remote Control systems, including expert installation from highly-trained technicians.
Manufacturer guidelines state that this item cannot be directly purchased online. We are able to sell this item to you in our retail location, please call for details.
Give us a call at 1-866-795-5120 for pricing and more information.
Hello there. Would you like a discount?
Valid on this product only:
Peerless SP850-V2X2 Pull-Out Pivot Wall Mount for 26-65" Flat Panel Displays - Black
Enter in your name and email address in the form below and submit it to have us automatically email your one time use coupon that is good for today only.
Please check your junk folder for our email. To ensure proper email delivery add mail@ielectronics.com to your address book.

Thank you! Here is your coupon. To activate it, enter the code below at checkout.
This coupon is valid until the end of the day today, and while supplies last.
An error occurred when processing your request.
Please call us at 1-866-795-5120 for immediate assistance.