Product Description
SANUS Component Series CFR2144 AV rack can support up to 1000 lbs of AV gear. It comes pre-assembled with blanking panels and vented shelves, which include back stops to ensure AV equipment does not move during use. Quick-release back and side panels allow complete and total access to components and wiring. The rack has two 3U cut-out openings on both top and bottom of the rack as well as a removable 3U panel that can be located above or below the rear rack door for added venting or active cooling flexibility. Swivel casters and adjustable feet allow mobility and stable positioning, and cooling vents on the top and bottom of the rack ensure all equipment stays at the ideal temperature. The CFR2144 comes with additional accessories to gang racks together and to make the side panels lockable.
Product Features
Strong and sturdy construction with heavy-gauge welded steel

Customizable rack includes adjustable shelves, rails and multiple 3U removable panels

Quick-release removable side and back panels allow for easy access to components

Rack comes pre-assembled with shelves and blanking panels to simplify ordering and installation

Lockable tempered glass front door can be placed on left or right of rack for added flexibility during installation

Convection cooling system allows warm air to escape through top as cooler air is drawn in through bottom of rack, keeping AV gear at the proper temperature

Recipient of 2012 Home Theater Review Award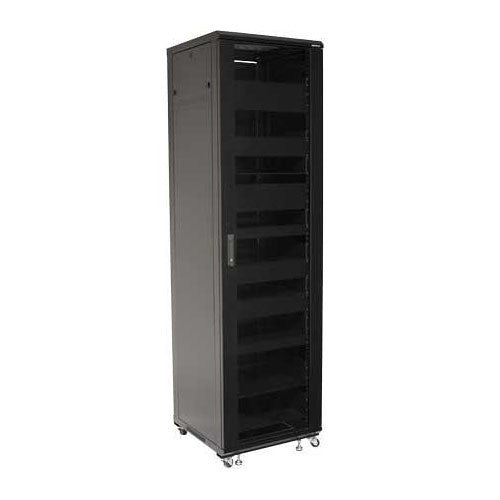 This product is eligible for free shipping in an order of over $49. Purchase more than $49 worth of products and take advantage of free shipping today.
This product is eligible for free shipping. Buy now to take advantage of free shipping on this item.
This item is only shipped using ground freight shipping. Add to cart and hit the checkout button to see shipping charges for this product.
This product is eligible for free ground shipping. Complete your order now to take advantage of free shipping on this product.
Standard shipping fees apply to this product. Add to cart and hit the checkout button to see shipping charges for this product.
Home Theater
This product is easily integrated into larger home theater systems and home entertainment systems. This product has proven the quality to be considered Home Theater Ready. Start building your home theater today.
Smart televisions, surround sound systems, soundbars and more are available from iElectronics.com, your online destination for home theater equipment and home entertainment systems.
Home Automation
This product has been certified to work well with home automation systems. It is easily integrated with Universal Remote Control, Control4 Home Automation Systems, and other home automation components.
No matter your home automation need, iElectronics.com has the solution for you, from Control4 components to full home automation and Universal Remote Control systems, including expert installation from highly-trained technicians.
Manufacturer guidelines state that this item cannot be directly purchased online. We are able to sell this item to you in our retail location, please call for details.
Give us a call at 1-866-795-5120 for pricing and more information.
Hello there. Would you like a discount?
Valid on this product only:
Sanus CFR2144 44U Component Foundations, 84.75" Tall AV Rack
Enter in your name and email address in the form below and submit it to have us automatically email your one time use coupon that is good for today only.
Please check your junk folder for our email. To ensure proper email delivery add mail@ielectronics.com to your address book.

Thank you! Here is your coupon. To activate it, enter the code below at checkout.
This coupon is valid until the end of the day today, and while supplies last.
An error occurred when processing your request.
Please call us at 1-866-795-5120 for immediate assistance.