Product Description
Sanus® Single-Column AV Component System Shelf
The SANUS Vertical Series VMA401 is a single-column AV component system that mounts directly under wall-mounted TVs for a sleek, streamlined look. Its center column is vertically adjustable for perfect alignment under a wall-mounted TV, even after hanging. The center column features an integrated channel for easy power cable and signal wire routing. Thick tempered-glass shelf support up to 15 lbs and can be vertically adjusted to accommodate any AV component arrangement. Combine more than one VMA401 for a multiple shelving unit.
Features:
Universal design fits nearly all AV components Combine with other VMA401 units to create a multiple shelf solution Thick-tempered 6mm glass can hold up to 15 lbs Integrated cable management system organizes and keeps cables hidden without having to run them through the wall 1.34" profile works well with mounted ultra-thin TVs Micro-adjustment feature ensures unit is at a perfect height after installation Can be easily installed on sheet rock, wooden studs or concrete; all hardware included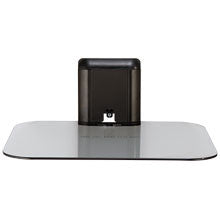 This product is eligible for free shipping in an order of over $49. Purchase more than $49 worth of products and take advantage of free shipping today.
This product is eligible for free shipping. Buy now to take advantage of free shipping on this item.
This item is only shipped using ground freight shipping. Add to cart and hit the checkout button to see shipping charges for this product.
This product is eligible for free ground shipping. Complete your order now to take advantage of free shipping on this product.
Standard shipping fees apply to this product. Add to cart and hit the checkout button to see shipping charges for this product.
Home Theater
This product is easily integrated into larger home theater systems and home entertainment systems. This product has proven the quality to be considered Home Theater Ready. Start building your home theater today.
Smart televisions, surround sound systems, soundbars and more are available from iElectronics.com, your online destination for home theater equipment and home entertainment systems.
Home Automation
This product has been certified to work well with home automation systems. It is easily integrated with Universal Remote Control, Control4 Home Automation Systems, and other home automation components.
No matter your home automation need, iElectronics.com has the solution for you, from Control4 components to full home automation and Universal Remote Control systems, including expert installation from highly-trained technicians.
Manufacturer guidelines state that this item cannot be directly purchased online. We are able to sell this item to you in our retail location, please call for details.
Give us a call at 1-866-795-5120 for pricing and more information.
Hello there. Would you like a discount?
Valid on this product only:
Sanus® Single-Column AV Component System Shelf
Enter in your name and email address in the form below and submit it to have us automatically email your one time use coupon that is good for today only.
Please check your junk folder for our email. To ensure proper email delivery add mail@ielectronics.com to your address book.
Thank you! Here is your coupon. To activate it, enter the code below at checkout.
This coupon is valid until the end of the day today, and while supplies last.
An error occurred when processing your request.
Please call us at 1-866-795-5120 for immediate assistance.