Product Description
Extend your Sonos wireless network with the white Sonos BOOST Wireless Network Adapter. This unit features enterprise-grade performance for optimal signal range and can also be used to add wireless capability to other Sonos components with its 2-port Ethernet connectivity. Three antennas are built into the BOOST providing a 360° signal range. It is also capable of neutralizing other nearby wireless frequencies that may interfere with its own wireless signal.
Enterprise-Grade Performance
The BOOST has been optimized to be twice as powerful as the Sonos BRIDGE. With Sonos designed enterprise-grade performance, the BOOST is design to deliver a strong wireless signal throughout your home.
Overcome Wireless Obstacles
The BOOST is designed to neutralize interference from other wireless devices in your home, such as cordless phones and baby monitors.
Uniform Wireless Coverage
The BOOST incorporates three internal antennas that can broadcast 360° signals through walls and ceilings for optimal coverage.
Connectivity
The BOOST plugs into your home router to create a dedicated wireless network for your Sonos system.
Extend Your Dedicated Network
Once you've created a dedicated network, you can use additional BOOST units to extend the range of your Sonos system or even provide an Internet connection to other products in your home using the built-in Ethernet switch.
Elevate Your TV Sound
The BOOST lets you wirelessly connect your PLAYBAR to SUB and PLAY;1 rear speakers for an immersive 5.1-channel surround sound experience.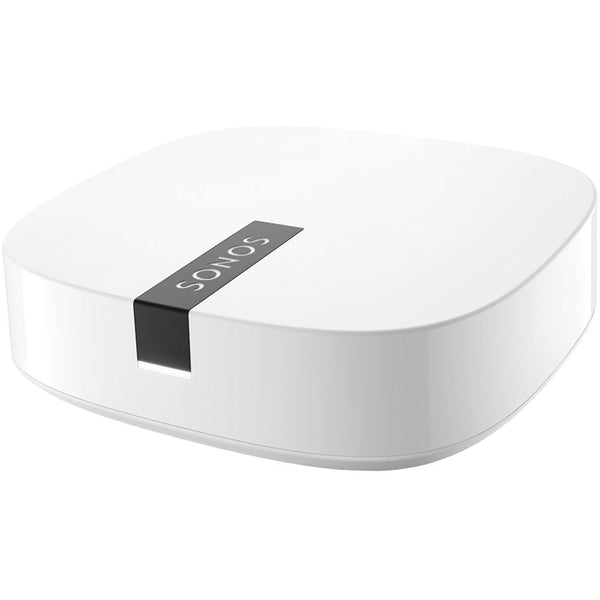 This product is eligible for free shipping in an order of over $49. Purchase more than $49 worth of products and take advantage of free shipping today.
This product is eligible for free shipping. Buy now to take advantage of free shipping on this item.
This item is only shipped using ground freight shipping. Add to cart and hit the checkout button to see shipping charges for this product.
This product is eligible for free ground shipping. Complete your order now to take advantage of free shipping on this product.
Standard shipping fees apply to this product. Add to cart and hit the checkout button to see shipping charges for this product.
Home Theater
This product is easily integrated into larger home theater systems and home entertainment systems. This product has proven the quality to be considered Home Theater Ready. Start building your home theater today.
Smart televisions, surround sound systems, soundbars and more are available from iElectronics.com, your online destination for home theater equipment and home entertainment systems.
Home Automation
This product has been certified to work well with home automation systems. It is easily integrated with Universal Remote Control, Control4 Home Automation Systems, and other home automation components.
No matter your home automation need, iElectronics.com has the solution for you, from Control4 components to full home automation and Universal Remote Control systems, including expert installation from highly-trained technicians.
Manufacturer guidelines state that this item cannot be directly purchased online. We are able to sell this item to you in our retail location, please call for details.
Give us a call at 1-866-795-5120 for pricing and more information.
Hello there. Would you like a discount?
Valid on this product only:
Sonos BOOST Wireless Network Adapter (White)
Enter in your name and email address in the form below and submit it to have us automatically email your one time use coupon that is good for today only.
Please check your junk folder for our email. To ensure proper email delivery add mail@ielectronics.com to your address book.

Thank you! Here is your coupon. To activate it, enter the code below at checkout.
This coupon is valid until the end of the day today, and while supplies last.
An error occurred when processing your request.
Please call us at 1-866-795-5120 for immediate assistance.