Product Description
AIM Series 2 breaks new ground by adapting technology that was once only utilized in large sound reinforcement experiences. By incorporating multiple tweeters in a line array, AIM Series 2 delivers focused high frequencies farther into the listening area than standard tweeter configurations so that listeners may enjoy a larger sweet spot. Complementing the ARC Tweeter Array is our updated WavePlane technology that acts as an acoustic lens, focusing the high frequency audio energy into the listening environment for a cleaner, wider, and richer sound. But it's the enhanced aim-ability of the AIM Series 2 that presents all new options for sound design-from home theater to whole home audio. Simply put, every element of the AIM Series 2 has been recrafted for heightened aesthetics and heightened sound.
Flangeless appearance
7" Glass Fiber Cone Woofer with 15

o

Pivoting

RC Tweeter Array incorporating four (4) - 5/8" Silk Dome Tweeters with

15

o

Pivoting & 359

o

Rotational Capability
WavePlane Technology with Vortex Eliminators
Acoustic Isolation Technology to minimize acoustic energy transfer to mounting and surrounding surfaces
Front-Mounted Switch Allows for up to +/- 3dB of Treble Adjustment
Timbre-Matched to all TWO Level Speakers
Sensitivity: 88db 1W/1m
Maximum SPL: 107dB
Power Handling: 125 Watts
Impedance: 8 Ohm Nominal
Frequency Response: 40Hz-20kHz
Diameter x Depth: 9 5/8" x 5 1/2" (244mm x 140mm) (with Grille)

Cut-Out Diameter: 8.27" or 8 1/4" (210mm)
Product Downloads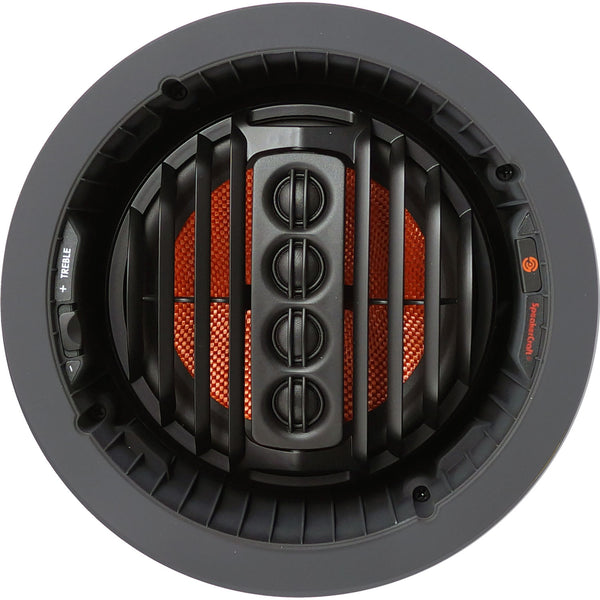 This product is eligible for free shipping in an order of over $49. Purchase more than $49 worth of products and take advantage of free shipping today.
This product is eligible for free shipping. Buy now to take advantage of free shipping on this item.
This item is only shipped using ground freight shipping. Add to cart and hit the checkout button to see shipping charges for this product.
This product is eligible for free ground shipping. Complete your order now to take advantage of free shipping on this product.
Standard shipping fees apply to this product. Add to cart and hit the checkout button to see shipping charges for this product.
Home Theater
This product is easily integrated into larger home theater systems and home entertainment systems. This product has proven the quality to be considered Home Theater Ready. Start building your home theater today.
Smart televisions, surround sound systems, soundbars and more are available from iElectronics.com, your online destination for home theater equipment and home entertainment systems.
Home Automation
This product has been certified to work well with home automation systems. It is easily integrated with Universal Remote Control, Control4 Home Automation Systems, and other home automation components.
No matter your home automation need, iElectronics.com has the solution for you, from Control4 components to full home automation and Universal Remote Control systems, including expert installation from highly-trained technicians.
Manufacturer guidelines state that this item cannot be directly purchased online. We are able to sell this item to you in our retail location, please call for details.
Give us a call at 1-866-795-5120 for pricing and more information.
Hello there. Would you like a discount?
Valid on this product only:
Speakercraft AIM272 AIM 7 Two Series 2 125W In-Ceiling Speaker (Each) - Refurbished
Enter in your name and email address in the form below and submit it to have us automatically email your one time use coupon that is good for today only.
Please check your junk folder for our email. To ensure proper email delivery add mail@ielectronics.com to your address book.

Thank you! Here is your coupon. To activate it, enter the code below at checkout.
This coupon is valid until the end of the day today, and while supplies last.
An error occurred when processing your request.
Please call us at 1-866-795-5120 for immediate assistance.