Product Description
The ASM57301 Profile AIM7 Three In-Ceiling Speakers from SpeakerCraft provide sound reproduction at an affordable price. The speakers were designed for both professional and home entertainment enthusiasts with the capability to deliver a full and clear sound response. The ASM57301 boasts an impressive 7" (17.8 cm) aluminum (cone) woofer, 1" (2.5 cm) aluminum dome (pivoting) tweeter and 125W of power.
The entire baffle pivots to allow sound to be focused at the listening area. The tweeter also pivots independently for even more flexibility. This speaker offers front-mounted treble / bass adjustment switch, and is timbre-matched to SpeakerCraft's speakers. You can also paint it to match the needs of custom installations.
The AIM7 Three in-ceiling speakers feature an amiable woofer / tweeter module that aims the sound in any direction you choose. No longer are you bound by the design of your room. Just mount the speakers wherever it's convenient and point them wherever you want sound
The speakers can be used for front, rear, left and right channel in home theater speaker installations
There's no bezel and no visible mounting flange. All you see is a grille, which can be painted to match the wall or ceiling. It's a very clean speaker installation The speakers are a good fit for any place you want great sound but don't want visible speakers
SpeakerCraft's proprietary technology such as WavePlane employs a broader, bigger sound
Product Downloads
Download Product Installation Manual
Download Product Brochure(non-profile version)
General Information
Manufacturer
Speakercraft
Manufacturer Part Number
ASM57301
Woofer
Pivoting and rotating 7" (17.8 cm) aluminum cone woofer
Tweeter
Pivoting 1" (2.5 cm) aluminum dome tweeter
Switches
Front-mounted bass and treble equalization switches
Sensitivity
91dB 1W / 3.3' (1 m)
Power Handling
125W
Impedance
8 / 6 / 4 ohms, depending on switch settings
Dimensions

Diameter x depth: 9.6 x 5.1" (251 x 130 mm) (with grille)
Cut-out diameter: 8.3" (210 mm)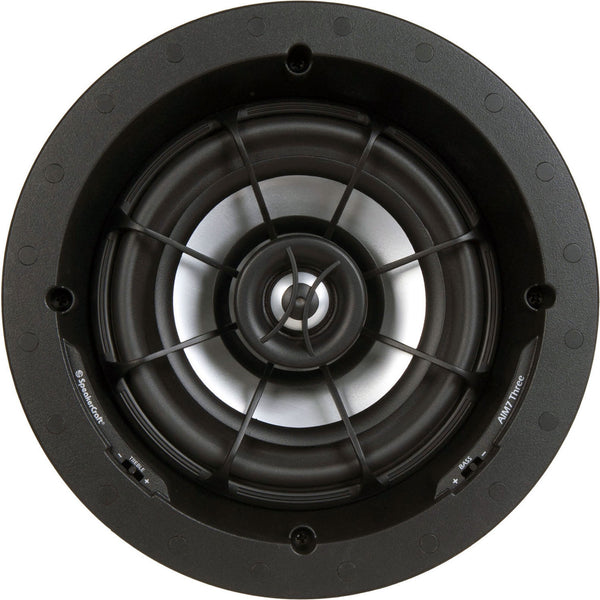 This product is eligible for free shipping in an order of over $49. Purchase more than $49 worth of products and take advantage of free shipping today.
This product is eligible for free shipping. Buy now to take advantage of free shipping on this item.
This item is only shipped using ground freight shipping. Add to cart and hit the checkout button to see shipping charges for this product.
This product is eligible for free ground shipping. Complete your order now to take advantage of free shipping on this product.
Standard shipping fees apply to this product. Add to cart and hit the checkout button to see shipping charges for this product.
Home Theater
This product is easily integrated into larger home theater systems and home entertainment systems. This product has proven the quality to be considered Home Theater Ready. Start building your home theater today.
Smart televisions, surround sound systems, soundbars and more are available from iElectronics.com, your online destination for home theater equipment and home entertainment systems.
Home Automation
This product has been certified to work well with home automation systems. It is easily integrated with Universal Remote Control, Control4 Home Automation Systems, and other home automation components.
No matter your home automation need, iElectronics.com has the solution for you, from Control4 components to full home automation and Universal Remote Control systems, including expert installation from highly-trained technicians.
Manufacturer guidelines state that this item cannot be directly purchased online. We are able to sell this item to you in our retail location, please call for details.
Give us a call at 1-866-795-5120 for pricing and more information.
Hello there. Would you like a discount?
Valid on this product only:
SpeakerCraft ASM57301 Profile AIM7 Three 7" In-Ceiling Speaker (Each)
Enter in your name and email address in the form below and submit it to have us automatically email your one time use coupon that is good for today only.
Please check your junk folder for our email. To ensure proper email delivery add mail@ielectronics.com to your address book.

Thank you! Here is your coupon. To activate it, enter the code below at checkout.
This coupon is valid until the end of the day today, and while supplies last.
An error occurred when processing your request.
Please call us at 1-866-795-5120 for immediate assistance.