Product Description
Great musical entertainment should follow you everywhere. Outdoor environments are just as important as those we carefully design and enjoy within the walls of our homes. To compliment our wide variety of dedicated outdoor loudspeakers, we proudly present the Boomtomb in-ground subwoofer. Bury this waterproof enclosure in the backyard, in a flower bed, at the edge of the lawn or near the pool and the long excursion 10-inch woofer will shake the earth. Vented through a hooded port, the only exposed element of the system, the bass will compliment any number of Speakercraft Ruckus, Outdoor Elements or OG speakers in the vicinity. Powered by a dedicated external 250-watt amplifier (not included), the Boomtomb will bring your landscape to life.
Weather Resistant Poly Resin Enclosure
Buried Enclosure with External Hooded Port
Sensitivity: 90dB 1W/1m
Power Handling: 250 Watts
Impedance: 4 Ohms
Frequency Response: 30Hz - 200Hz
Dimensions: (H x W x D) 15 3/8" x 24 5/8" x 12 1/2" (391 mm x 625 mm x 318 mm)
Port Tube/Cap Height: 13 3/8" (6 mm)
Product Downloads
General Information
Manufacturer
SpeakerCraft
Manufacturer Part Number
ASM6710BT
Brand Name
SpeakerCraft
Product Name
Boom Tomb In-Ground Subwoofer
Product Type
Woofer
Technical Information
RMS Output Power
250 W
Driver Type
10" Woofer
Minimum Frequency Response
30 Hz
Maximum Frequency Response
200 Hz
Impedance
4 Ohm
Sensitivity
90 dB
Physical Characteristics
Form Factor
Height
15.4"
Width
24.6"
Depth
12.5"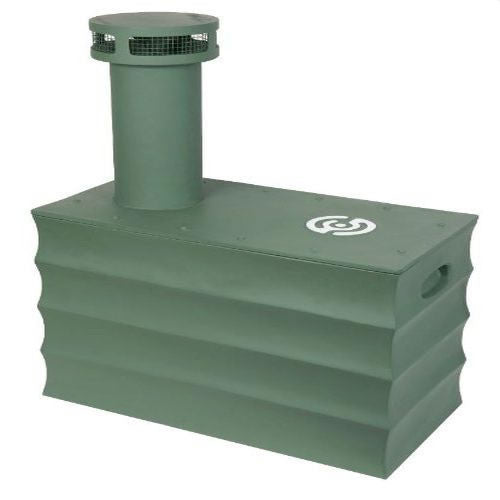 This product is eligible for free shipping in an order of over $49. Purchase more than $49 worth of products and take advantage of free shipping today.
This product is eligible for free shipping. Buy now to take advantage of free shipping on this item.
This item is only shipped using ground freight shipping. Add to cart and hit the checkout button to see shipping charges for this product.
This product is eligible for free ground shipping. Complete your order now to take advantage of free shipping on this product.
Standard shipping fees apply to this product. Add to cart and hit the checkout button to see shipping charges for this product.
Home Theater
This product is easily integrated into larger home theater systems and home entertainment systems. This product has proven the quality to be considered Home Theater Ready. Start building your home theater today.
Smart televisions, surround sound systems, soundbars and more are available from iElectronics.com, your online destination for home theater equipment and home entertainment systems.
Home Automation
This product has been certified to work well with home automation systems. It is easily integrated with Universal Remote Control, Control4 Home Automation Systems, and other home automation components.
No matter your home automation need, iElectronics.com has the solution for you, from Control4 components to full home automation and Universal Remote Control systems, including expert installation from highly-trained technicians.
Manufacturer guidelines state that this item cannot be directly purchased online. We are able to sell this item to you in our retail location, please call for details.
Give us a call at 1-866-795-5120 for pricing and more information.
Hello there. Would you like a discount?
Valid on this product only:
SpeakerCraft ASM6710BT BoomTomb 10" In-Ground Subwoofer - Green (Each)
Enter in your name and email address in the form below and submit it to have us automatically email your one time use coupon that is good for today only.
Please check your junk folder for our email. To ensure proper email delivery add mail@ielectronics.com to your address book.

Thank you! Here is your coupon. To activate it, enter the code below at checkout.
This coupon is valid until the end of the day today, and while supplies last.
An error occurred when processing your request.
Please call us at 1-866-795-5120 for immediate assistance.