Product Description
SpeakerCraft sTP7, a 7" touch panel controller with a contemporary industrial design for control of the SpeakerCraft MRA-664 multi-room audio control system. The touch panel is wall mountable in either portrait or landscape orientation to best suit the needs of your room and includes a speaker, microphone and color camera to accomodate future enhancements. The high resolution interface makes this unit one of the most popular control devices on the market- second in popularity only to the sHR200 for its sleek appearance and simple user interface. Not all touch panels are created equally - and the SpeakerCraft 7" touch panel leads the pack. The touchscreen is highly responsive, and the proximity sensor wakes it from sleep without any touch required. The front panel glass design makes this controller highly durable, easy to clean and resistant to scratches. The touch panel is available in White and Black finishes and is single wire connected with power over Ethernet.
Dimensions: Overall 8" wide x 5" height, mounting depth 1.75"
Screen Size: 7-inch diagonal, 16:9 widescreen
Resolution: 800W x 480H
Microphone: Dual Digital Beam Forming for Field Pickup
Speaker: 2W integrated
Camera: 640X x 480H
Type: LAN/PoE: RJ-45
USB: USB Type A
Direct Mini USB
PoE IEEE 802.3at, (power over Ethernet) 13w maximum draw (@48V 270 mA max)
Product Downloads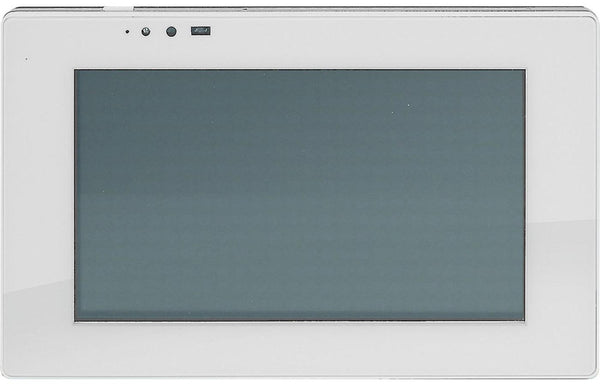 This product is eligible for free shipping in an order of over $49. Purchase more than $49 worth of products and take advantage of free shipping today.
This product is eligible for free shipping. Buy now to take advantage of free shipping on this item.
This item is only shipped using ground freight shipping. Add to cart and hit the checkout button to see shipping charges for this product.
This product is eligible for free ground shipping. Complete your order now to take advantage of free shipping on this product.
Standard shipping fees apply to this product. Add to cart and hit the checkout button to see shipping charges for this product.
Home Theater
This product is easily integrated into larger home theater systems and home entertainment systems. This product has proven the quality to be considered Home Theater Ready. Start building your home theater today.
Smart televisions, surround sound systems, soundbars and more are available from iElectronics.com, your online destination for home theater equipment and home entertainment systems.
Home Automation
This product has been certified to work well with home automation systems. It is easily integrated with Universal Remote Control, Control4 Home Automation Systems, and other home automation components.
No matter your home automation need, iElectronics.com has the solution for you, from Control4 components to full home automation and Universal Remote Control systems, including expert installation from highly-trained technicians.
Manufacturer guidelines state that this item cannot be directly purchased online. We are able to sell this item to you in our retail location, please call for details.
Give us a call at 1-866-795-5120 for pricing and more information.
Hello there. Would you like a discount?
Valid on this product only:
Speakercraft STP7-W Wall-mount 7" Touch-Panel Controller for MRA-664 - White
Enter in your name and email address in the form below and submit it to have us automatically email your one time use coupon that is good for today only.
Please check your junk folder for our email. To ensure proper email delivery add mail@ielectronics.com to your address book.

Thank you! Here is your coupon. To activate it, enter the code below at checkout.
This coupon is valid until the end of the day today, and while supplies last.
An error occurred when processing your request.
Please call us at 1-866-795-5120 for immediate assistance.