Product Description
Leader in Sound Quality Launches a New Sonic Experience
Sunfire breaks through the sub clutter with a new series that touts features that make it a standout, including a proven tracking down converter amplifier, long throw, high back-electromotive force drivers, and fully automatic room equalizer. These unique features provide these woofers with as much bass as you would get from multiple 15 inch drivers mounted in a cabinet the size of a small refrigerator. Defining the standard of quality today, the XTEQ series also brings a suite of premium audiophile features to the table, like advanced auto turn-on circuitry, Anti-Walking Tread Design Feet™, gold plated connectors, soft clipping circuitry, and variable crossover level and phase control, making the XTEQ the foundation for any great home theater and audio system.
The introduction of this high performance subwoofer has managed to deliver both brawn and beauty. The Sunfire XTEQ series is the first to deliver accurate, powerful bass that rockets the entertainment value of any space by delivering up to 3,000 watts of pure bass. The sleek, compact design blends into any room and steers clear of the bulky bass of yesteryear, instead making the audio the authority. Room-specific calibration accurately integrates an XTEQ subwoofer into any living space and existing audio system, simulating a cinematic experience. You'll get bone-rattling bass from some of the smallest subwoofer cabinets in the industry. Try us on for size.
General Information
Manufacturer
Sunfire
Manufacturer Part Number
XTEQ8
Brand Name
Sunfire
Product Series
XTEQ
Product Model
XTEQ8
Product Name
XTEQ 8" Subwoofer
Packaged Quantity
1
Product Type
Subwoofer System
Technical Information
Frequency Response
22 Hz to 100 Hz
Features

Passive Radiators
Equalizer

Audio
RMS Output Power
1800 W
Subwoofer Type
Active
Network & Communication
Bluetooth
No
Power Description
Power Source
AC Power Cord
Physical Characteristics
Color
High Gloss Black
Height
10.5"
Width
12.4"
Depth
10.6"
Weight (Approximate)
42.60 lb
Miscellaneous
Package Contents

XTEQ 8" Subwoofer
Microphone
Power Cord

Green Compliant
Yes
Green Compliance Certificate/Authority
WEEE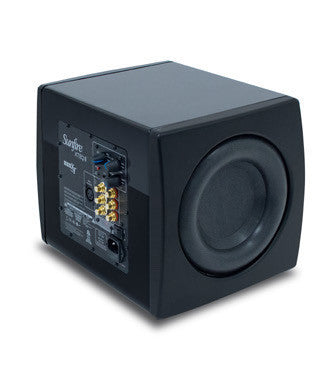 This product is eligible for free shipping in an order of over $49. Purchase more than $49 worth of products and take advantage of free shipping today.
This product is eligible for free shipping. Buy now to take advantage of free shipping on this item.
This item is only shipped using ground freight shipping. Add to cart and hit the checkout button to see shipping charges for this product.
This product is eligible for free ground shipping. Complete your order now to take advantage of free shipping on this product.
Standard shipping fees apply to this product. Add to cart and hit the checkout button to see shipping charges for this product.
Home Theater
This product is easily integrated into larger home theater systems and home entertainment systems. This product has proven the quality to be considered Home Theater Ready. Start building your home theater today.
Smart televisions, surround sound systems, soundbars and more are available from iElectronics.com, your online destination for home theater equipment and home entertainment systems.
Home Automation
This product has been certified to work well with home automation systems. It is easily integrated with Universal Remote Control, Control4 Home Automation Systems, and other home automation components.
No matter your home automation need, iElectronics.com has the solution for you, from Control4 components to full home automation and Universal Remote Control systems, including expert installation from highly-trained technicians.
Manufacturer guidelines state that this item cannot be directly purchased online. We are able to sell this item to you in our retail location, please call for details.
Give us a call at 1-866-795-5120 for pricing and more information.
Hello there. Would you like a discount?
Valid on this product only:
Sunfire XTEQ Series XTEQ8 Subwoofer System - 1800 W RMS - High Gloss Black
Enter in your name and email address in the form below and submit it to have us automatically email your one time use coupon that is good for today only.
Please check your junk folder for our email. To ensure proper email delivery add mail@ielectronics.com to your address book.

Thank you! Here is your coupon. To activate it, enter the code below at checkout.
This coupon is valid until the end of the day today, and while supplies last.
An error occurred when processing your request.
Please call us at 1-866-795-5120 for immediate assistance.