Product Description
1-source, 4-zone AV distribution - High Speed Chip Set that Supports Full HD1080P/60HZ 3D and 4K x 2K - Supports Digital Audio Format, DTS-HD/Dolby-True HD/LPCM7.1/AC3/DTS/DSD - Super IR control system, IR transport channel can be forward or backward, an IR adapter and a transmitter and receiver pigtails are needed - Essential Info - The Vanco 280704 1x4 HDMI Splitter with IR allows you to connect a single High Definition (HD) 1080p 3D source component such as a Blu-ray Player, Play Station 3, audio/video receiver, cable or satellite receiver or computer equipped with an HDMI output interface with a short high-speed HDMI cable to the HDMI Selector Switch inputs. Connect up to four of the HDMI outputs from the Splitter to HDTVs or other high-definition display devices such as HD-LCD, HD-DLP and HD projectors with HDMI input interfaces. Use high speed HDMI cables that are recommended for the distances that are required for each connection. Super IR Control - This unit has the capability of being controlled via IR signals. The switch can be controlled from the display. This is accomplished by using an optional IR Receiver pigtail pointing away from the display(s), which can be connected with the HDMI IR Adapter, 2and inserted between the HDMI cable connector and the display with the toggle switch at the 'IR' position. The IR Transmitter / Sender / Emitter pigtail is then connected to the switch and pointed at the source(s). A remote control is used at the display to select switch inputs and outputs. (This is only compatible with Vanco's Super HDMI IR Accessories).
General Information
Manufacturer
Vanco International, Inc
Manufacturer Part Number
280704
Brand Name
Vanco
Product Model
280704
Product Name
HDMI Splitter
Product Type
Audio/Video Switchbox
Technical Information
Number of Input Devices Supported
1
Device Supported
Computer
Number of Displays Supported
4
Video
Scan Format
1080p
Interfaces/Ports
HDMI In
Yes
HDMI Out
Yes
Number of HDMI Inputs
1
Media & Performance
Maximum Operating Distance
66 ft
Physical Characteristics
Form Factor
Rack-mountable
Height
1"
Width
4.4"
Depth
3"
Warranty
Limited Warranty
1 Year Limited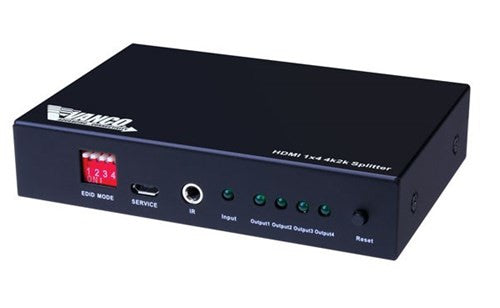 This product is eligible for free shipping in an order of over $49. Purchase more than $49 worth of products and take advantage of free shipping today.
This product is eligible for free shipping. Buy now to take advantage of free shipping on this item.
This item is only shipped using ground freight shipping. Add to cart and hit the checkout button to see shipping charges for this product.
This product is eligible for free ground shipping. Complete your order now to take advantage of free shipping on this product.
Standard shipping fees apply to this product. Add to cart and hit the checkout button to see shipping charges for this product.
Home Theater
This product is easily integrated into larger home theater systems and home entertainment systems. This product has proven the quality to be considered Home Theater Ready. Start building your home theater today.
Smart televisions, surround sound systems, soundbars and more are available from iElectronics.com, your online destination for home theater equipment and home entertainment systems.
Home Automation
This product has been certified to work well with home automation systems. It is easily integrated with Universal Remote Control, Control4 Home Automation Systems, and other home automation components.
No matter your home automation need, iElectronics.com has the solution for you, from Control4 components to full home automation and Universal Remote Control systems, including expert installation from highly-trained technicians.
Manufacturer guidelines state that this item cannot be directly purchased online. We are able to sell this item to you in our retail location, please call for details.
Give us a call at 1-866-795-5120 for pricing and more information.
Hello there. Would you like a discount?
Valid on this product only:
Vanco 280704 HDMI 1 x 4 Splitter/Extender
Enter in your name and email address in the form below and submit it to have us automatically email your one time use coupon that is good for today only.
Please check your junk folder for our email. To ensure proper email delivery add mail@ielectronics.com to your address book.

Thank you! Here is your coupon. To activate it, enter the code below at checkout.
This coupon is valid until the end of the day today, and while supplies last.
An error occurred when processing your request.
Please call us at 1-866-795-5120 for immediate assistance.