Product Description
The EN85K Ensemble is a convertible IR Receiver Kit that can be adapted to almost any surface mount, flush mount or shelf mount application. It includes all of the parts necessary for installing a single-room IR Repeater System for controlling a TV, Audio/Video Receiver, Blu-ray player, Cable Box, Satellite Receiver...just about any IR controlled A/V home entertainment device.
The kit includes an IR Receiver that can be attached to the front of a TV, or extended from behind with the TV Mount Adapter on flat panel TVs that have a minimal frame around the display area. The receiver can also be adapted to low-profile shelf-top placement with the Tabletop Adapter or inconspicuously mounted in a cabinet door with the Flush Mount Adapter for controlling IR components hidden in an equipment cabinet.
General Information
Manufacturer
Xantech Corporation
Manufacturer Part Number
EN85K
Brand Name
Xantech
Product Name
Ensemble Universal IR Kit
Product Type
IR Kit
Physical Characteristics
Dimensions
0.6" Diameter - IR Receiver
Miscellaneous
Package Contents

3.5mm Stereo Mini-Plug
IR Electronics Module
Mini IR Sensor
Tabletop Adapter
TV Mount Adapter
Flush Mount Adapter
789-44 Connecting Block
12V DC Power Supply
PTP-1 Jumper Cable
BOT-1.0 IR Terminal
IR Parallel Block
4 x 283D Emitters (Length 10 ft.)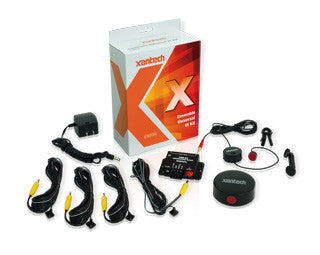 This product is eligible for free shipping in an order of over $49. Purchase more than $49 worth of products and take advantage of free shipping today.
This product is eligible for free shipping. Buy now to take advantage of free shipping on this item.
This item is only shipped using ground freight shipping. Add to cart and hit the checkout button to see shipping charges for this product.
This product is eligible for free ground shipping. Complete your order now to take advantage of free shipping on this product.
Standard shipping fees apply to this product. Add to cart and hit the checkout button to see shipping charges for this product.
Home Theater
This product is easily integrated into larger home theater systems and home entertainment systems. This product has proven the quality to be considered Home Theater Ready. Start building your home theater today.
Smart televisions, surround sound systems, soundbars and more are available from iElectronics.com, your online destination for home theater equipment and home entertainment systems.
Home Automation
This product has been certified to work well with home automation systems. It is easily integrated with Universal Remote Control, Control4 Home Automation Systems, and other home automation components.
No matter your home automation need, iElectronics.com has the solution for you, from Control4 components to full home automation and Universal Remote Control systems, including expert installation from highly-trained technicians.
Manufacturer guidelines state that this item cannot be directly purchased online. We are able to sell this item to you in our retail location, please call for details.
Give us a call at 1-866-795-5120 for pricing and more information.
Hello there. Would you like a discount?
Valid on this product only:
Xantech EN85K Ensemble Universal IR Kit
Enter in your name and email address in the form below and submit it to have us automatically email your one time use coupon that is good for today only.
Please check your junk folder for our email. To ensure proper email delivery add mail@ielectronics.com to your address book.

Thank you! Here is your coupon. To activate it, enter the code below at checkout.
This coupon is valid until the end of the day today, and while supplies last.
An error occurred when processing your request.
Please call us at 1-866-795-5120 for immediate assistance.