Product Description
The interference from a wall mount TV can wreak havoc with your IR control system. Xantech designed this Universal Micro Link IR Receiver to resist the interference from plasma, LCD and LED TVs, as well as fluorescent and compact fluorescent lighting (CFL), and sunlight - so you can mount this receiver in any room with confidence. The Micro Link IR Receiver is a small peep-hole style infrared repeater assembly, perfect for a nearly flush in-wall or cabinet installation with minimal footprint for a professional finish. The high sensitivity and extended range of this receiver allows it to receive IR commands up to 120 feet away. This Xantech Dinky Link IR receiver includes a 'talkback' LED so you'll know the command was received and sent to the emitter. Includes Black, Brass and White bezels.
Please note: Connecting block, power supply, and emitters are sold separately.
Local System Application
One application is to locate the IR receiver in a central location, near a TV, video screen and/or a speaker. The audio/video equipment can then be hidden inside a cabinet or located away from the front of a room. This will give the end-user the ability to direct a remote control to one central location and not have to worry about aiming to the respective device to be controlled.
Remote Room Application
Another application is to locate the IR receiver in a remote room. This will give the end-user the ability to control audio/video equipment from a location where the remote control no longer has the ability of direct line-of-sight.
Mounting
Drill a 1/2" hole in any surface, such as a cabinet panel. Pass the lead and the body of the ML95 through the hole and secure from the rear with the nut (supplied).
Placement
The IR receiver should be located so that it is not directly facing a light source such as lamps or displays (standard, LCD, and Plasma). When mounted near a display, it should be flush to the display and away from light reflections that may occur.
Cable Connections
ML95s may also be used where the 7-foot cable is not long enough. Simply cut off the mini plug, strip the leads and splice them to a 3-conductor extension cable with a terminal block or other means. Then connect the extension cable to the 3- or 4-terminal block on the connecting block.
Product Specifications
Infrared modulation frequency bandwidth: 25 - 60 kHz
IR reception range: Up to 120 feet, depending on remote control output strength and ambient conditions
Reception angle: 55 degrees off axis for 50% range reduction
Cable requirements: 3-conductor. Use 24 gauge up to 200', 22 gauge up to 600' 20 gauge up to 2000', 18 gauge up to 5000' - unshielded OK
Max. transmission length: 1 mile using 18 gauge wire
Maximum current output: 100mA
Drives IR emitters through Xantech Connecting Blocks, Controllers, etc.
Dimensions: 0.7" diameter x 2.2" deep (18mm x 56mm)
Power requirements: +12VDC, 20mA
What's Included
Universal Micro Link IR Receiver, Extended Range
Owner's manual
Black, brass and white bezels
Product Downloads
General Information
Manufacturer
Xantech Corporation
Manufacturer Part Number
ML95
Brand Name
Xantech
Product Model
ML95
Product Name
Micro Link Universal IR Receiver
Product Type
IR Receiver
Technical Information
Wireless Technology
Infrared
Coverage
120 ft On-Axis55°
Frequency Range
25 kHz to 60 kHz
Cable Information
7 ft
Interfaces/Ports
Interfaces/Ports
Mini-phone Stereo
Power Description
Input Voltage
12 V DC
Physical Characteristics
Depth
2.2"
Diameter
0.7"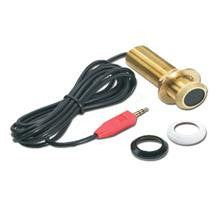 This product is eligible for free shipping in an order of over $49. Purchase more than $49 worth of products and take advantage of free shipping today.
This product is eligible for free shipping. Buy now to take advantage of free shipping on this item.
This item is only shipped using ground freight shipping. Add to cart and hit the checkout button to see shipping charges for this product.
This product is eligible for free ground shipping. Complete your order now to take advantage of free shipping on this product.
Standard shipping fees apply to this product. Add to cart and hit the checkout button to see shipping charges for this product.
Home Theater
This product is easily integrated into larger home theater systems and home entertainment systems. This product has proven the quality to be considered Home Theater Ready. Start building your home theater today.
Smart televisions, surround sound systems, soundbars and more are available from iElectronics.com, your online destination for home theater equipment and home entertainment systems.
Home Automation
This product has been certified to work well with home automation systems. It is easily integrated with Universal Remote Control, Control4 Home Automation Systems, and other home automation components.
No matter your home automation need, iElectronics.com has the solution for you, from Control4 components to full home automation and Universal Remote Control systems, including expert installation from highly-trained technicians.
Manufacturer guidelines state that this item cannot be directly purchased online. We are able to sell this item to you in our retail location, please call for details.
Give us a call at 1-866-795-5120 for pricing and more information.
Hello there. Would you like a discount?
Valid on this product only:
Xantech ML95 Universal Micro Link IR Receiver, Extended Range
Enter in your name and email address in the form below and submit it to have us automatically email your one time use coupon that is good for today only.
Please check your junk folder for our email. To ensure proper email delivery add mail@ielectronics.com to your address book.

Thank you! Here is your coupon. To activate it, enter the code below at checkout.
This coupon is valid until the end of the day today, and while supplies last.
An error occurred when processing your request.
Please call us at 1-866-795-5120 for immediate assistance.